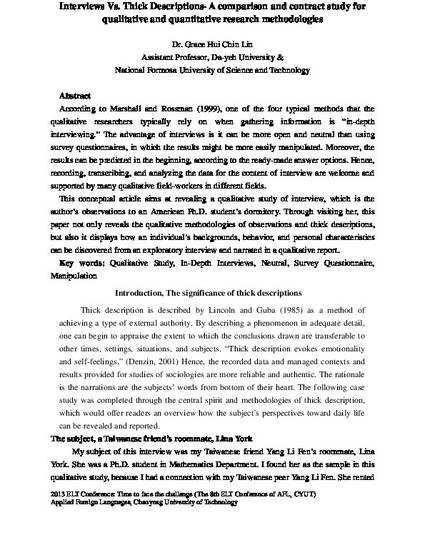 Presentation
Interviews Vs. Thick Descriptions- A comparison and contract study for qualitative and quantitative research methodologies
Chaoyang University (2013)
Abstract
According to Marshall and Rossman (1999), one of the four typical methods that the qualitative researchers typically rely on when gathering information is "in-depth interviewing." The advantage of interviews is it can be more open and neutral than using survey questionnaires, in which the results might be more easily manipulated. Moreover, the results can be predicted in the beginning, according to the ready-made answer options. Hence, recording, transcribing, and analyzing the data for the content of interview are welcome and supported by many qualitative field-workers in different fields. This conceptual article aims at revealing a qualitative study of interview, which is the author's observations to an American Ph.D. student's dormitory. Through visiting her, this paper not only reveals the qualitative methodologies of observations and thick descriptions, but also it displays how an individual's backgrounds, behavior, and personal characteristics can be discovered from an exploratory interview and narrated in a qualitative report.
Publication Date
Spring May 20, 2013
Citation Information
Grace Hui Chin Lin. "Interviews Vs. Thick Descriptions- A comparison and contract study for qualitative and quantitative research methodologies"
Chaoyang University
(2013)
Available at: http://works.bepress.com/gracehuichinlin/4/