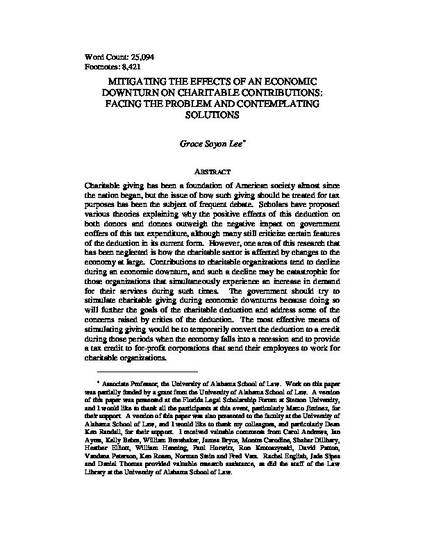 Unpublished Paper
Mitigating the Effects of an Economic Downturn on Charitable Contributions: Facing the Problem and Contemplating Solutions
ExpressO (2012)
Abstract
Charitable giving has been a foundation of American society almost since the nation began, but the issue of how such giving should be treated for tax purposes has been the subject of frequent debate. Scholars have proposed various theories explaining why the positive effects of this deduction on both donors and donees outweigh the negative impact on government coffers of this tax expenditure, although many still criticize certain features of the deduction in its current form. However, one area of this research that has been neglected is how the charitable sector is affected by changes to the economy at large. Contributions to charitable organizations tend to decline during an economic downturn, and such a decline may be catastrophic for those organizations that simultaneously experience an increase in demand for their services during such times. The government should try to stimulate charitable giving during economic downturns because doing so will further the goals of the charitable deduction and address some of the concerns raised by critics of the deduction. The most effective means of stimulating giving would be to temporarily convert the deduction to a credit during those periods when the economy falls into a recession and to provide a tax credit to for-profit corporations that send their employees to work for charitable organizations.
Publication Date
March 4, 2012
Citation Information
Grace S Lee. "Mitigating the Effects of an Economic Downturn on Charitable Contributions: Facing the Problem and Contemplating Solutions"
ExpressO
(2012)
Available at: http://works.bepress.com/grace_lee/10/