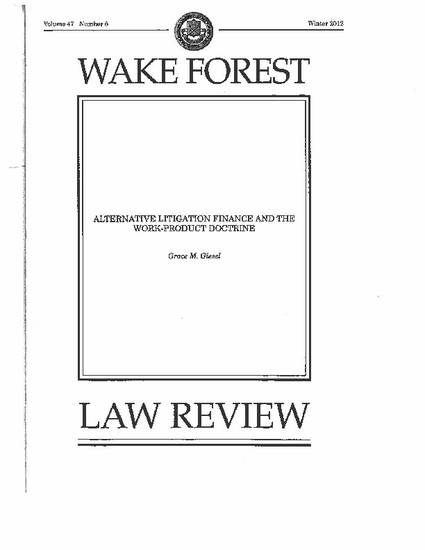 Article
Wake Forest Law Review Alternative Litigation Finance.pdf
Wake Forest Law Review (2012)
Abstract
The United States judicial system is in the midst of great and fundamental change with regard to funding litigation. Alternative litigation finance (ALF) entities have begun, with much more frequency and success, to provide funding for small matters such as individual personal injury claims and also larger commercial litigation matters between businesses. Historical obstacles such as the champerty doctrine have faded somewhat from the legal landscape in light of the notion that everyone deserves access to justice regardless of bank account balance. In this quickly developing ALF reality, new utilitarian questions have emerged. Perhaps the most important of these is the effect the involvement of ALF entities has on the attorney-client privilege and the work product doctrine. The desire to preserve privilege and work product protection will likely mold the shape of the day-to-day operations of ALF entities and the ALF market in general.
This article considers the work product doctrine in the ALF setting while leaving to a later date a consideration of the application of the attorney-client privilege. Relying on cases involving independent auditors, this article concludes that courts are likely to find that materials evaluating litigation, even if created in the ALF setting, are protected by the work product doctrine. The article further concludes that courts are likely to find that work product doctrine protection is not lost when materials are shared with an ALF entity but only if the entity enters into a binding nondisclosure agreement. Absent such an agreement, sharing materials with an ALF entity may destroy work product protection.
Keywords
work product doctrine,
legal ethics,
professional responsibility
Citation Information
Grace M. Giesel. "Wake Forest Law Review Alternative Litigation Finance.pdf"
Wake Forest Law Review
Vol. 47 (2012) p. 1083 - 1140
Available at: http://works.bepress.com/grace_giesel/25/