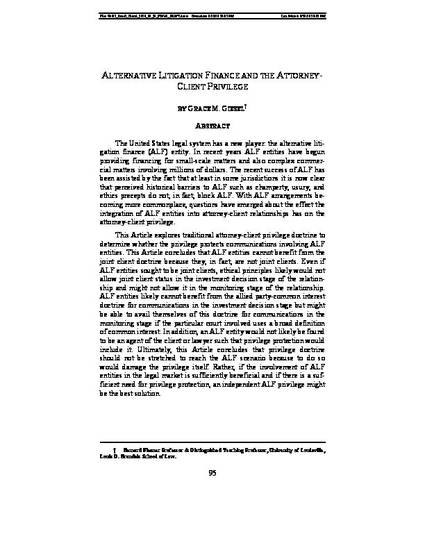 Article
Alternative Litigation Finance and the Attorney-Client Privilege, 92 Denver U. L. Rev. 96 (2014)
Denver University Law Review (2014)
Abstract
The United States legal system has a new player: the alternative litigation
finance (ALF) entity. In recent years ALF entities have begun
providing financing for small-scale matters and also complex commercial
matters involving millions of dollars. The recent success of ALF has
been assisted by the fact that at least in some jurisdictions it is now clear
that perceived historical barriers to ALF such as champerty, usury, and
ethics precepts do not, in fact, block ALF. With ALF arrangements becoming
more commonplace, questions have emerged about the effect the
integration of ALF entities into attorney-client relationships has on the
attorney-client privilege.
This Article explores traditional attorney-client privilege doctrine to
determine whether the privilege protects communications involving ALF
entities. This Article concludes that ALF entities cannot benefit from the
joint client doctrine because they, in fact, are not joint clients. Even if
ALF entities sought to be joint clients, ethical principles likely would not
allow joint client status in the investment decision stage of the relationship
and might not allow it in the monitoring stage of the relationship.
ALF entities likely cannot benefit from the allied party-common interest
doctrine for communications in the investment decision stage but might
be able to avail themselves of this doctrine for communications in the
monitoring stage if the particular court involved uses a broad definition
of common interest. In addition, an ALF entity would not likely be found
to be an agent of the client or lawyer such that privilege protection would
include it. Ultimately, this Article concludes that privilege doctrine
should not be stretched to reach the ALF scenario because to do so
would damage the privilege itself. Rather, if the involvement of ALF
entities in the legal market is sufficiently beneficial and if there is a sufficient
need for privilege protection, an independent ALF privilege might
be the best solution.
Keywords
attorney-client privilege,
legal ethics,
professional responsibility
Citation Information
Grace M. Giesel. "Alternative Litigation Finance and the Attorney-Client Privilege, 92 Denver U. L. Rev. 96 (2014)"
Denver University Law Review
Vol. 92 Iss. 1 (2014) p. 96 - 143
Available at: http://works.bepress.com/grace_giesel/23/