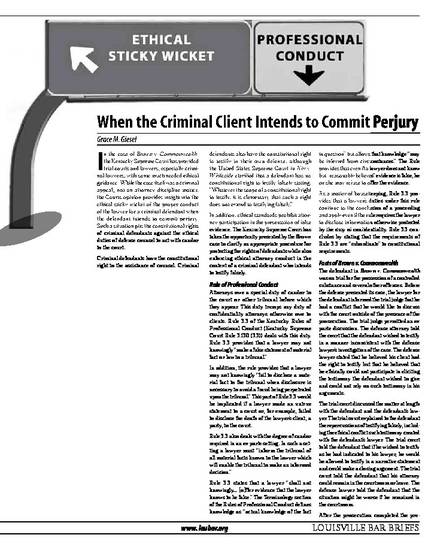 Popular Press
When the Criminal Client Intends to Commit Perjury
Louisville Bar Association Bar Briefs (2008)
Abstract
In the case of Brown v. Commonwealth, 226 S.W.3d 74 (Ky. 2007), the Kentucky Supreme Court has provided trial courts and lawyers, especially criminal lawyers, with some much needed ethical guidance. While the case itself was a criminal appeal, not an attorney discipline matter, the Court's opinion provides insight into the ethical sticky wicket of the proper conduct of the lawyer for a criminal defendant when the defendant intends to commit perjury. Such a situation pits the constitutional rights of criminal defendants against the ethical duties of defense counsel to act with candor to the court.
Keywords
Professional responsibility,
ethics,
rule 3.3,
client perjury
Publication Date
February, 2008
Citation Information
Grace M. Giesel. "When the Criminal Client Intends to Commit Perjury"
Louisville Bar Association Bar Briefs
Vol. 8 Iss. 2 (2008)
Available at: http://works.bepress.com/grace_giesel/19/