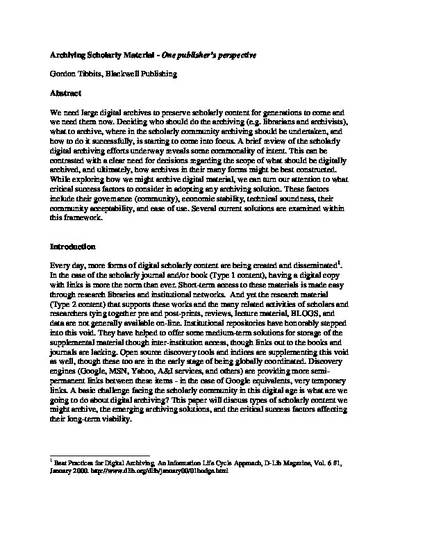 Article
Archiving Scholarly Material: one publisher's perspective
The Journal for the Serials Community, Volume 19, Number 2 / July 2006, Pages 111-119 (2006)
Abstract
We need large digital archives to preserve scholarly content for generations to come and we need them now. Deciding who should do the archiving (e.g. librarians and archivists), what to archive, where in the scholarly community archiving should be undertaken, and how to do it successfully, is starting to come into focus. A brief review of the scholarly digital archiving efforts underway reveals some commonality of intent. This can be contrasted with a clear need for decisions regarding the scope of what should be digitally archived, and ultimately, how archives in their many forms might be best constructed. While exploring how we might archive digital material, we can turn our attention to what critical success factors to consider in adopting any archiving solution. These factors include their governance (community), economic stability, technical soundness, their community acceptability, and ease of use. Several current solutions are examined within this framework.
Publication Date
July, 2006
Citation Information
Gordon C. Tibbitts. "Archiving Scholarly Material: one publisher's perspective"
The Journal for the Serials Community, Volume 19, Number 2 / July 2006, Pages 111-119
Vol. 19 Iss. 2 (2006)
Available at: http://works.bepress.com/gordon_tibbitts/9/