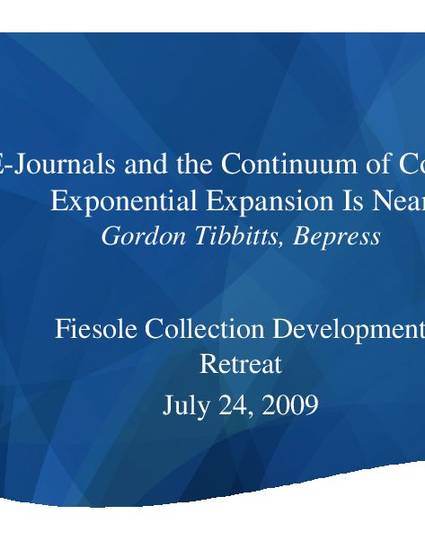 Presentation
e-Journals and the Continuum of Content: Exponential Expansion is Near
Fiesole 2009 (2009)
Abstract
e-Journals are evolving and will soon contain a massive array of information including data sets, blogs, videos, forums, conferences, interlinked services, chats, and more. They are expanding the comprehensiveness, depth, detail, and breadth of scholarly communication and forming a continuum from the traditional ISI ranked journals and all other forms of scholarship. e-Journals in their new form contain independently discoverable content items which rise in value when attributes of registration, certification, awareness, archiving, and reward are applied as they have been for centuries to traditional journal articles. As these new e-journals expand so will the move to a more immediate use of their content as part of scholarship, research, discovery, and teaching. Librarians' new role will include facilitating this trend and becoming the stewards of translating and exposing the horizontal connections between fields and best methods for facilitating discovery and advancement.
Keywords
e-journals,
publishing,
qualilty signalling,
scholarly communication
Publication Date
Summer July 24, 2009
Citation Information
Gordon C. Tibbitts. "e-Journals and the Continuum of Content: Exponential Expansion is Near"
Fiesole 2009
(2009)
Available at: http://works.bepress.com/gordon_tibbitts/3/