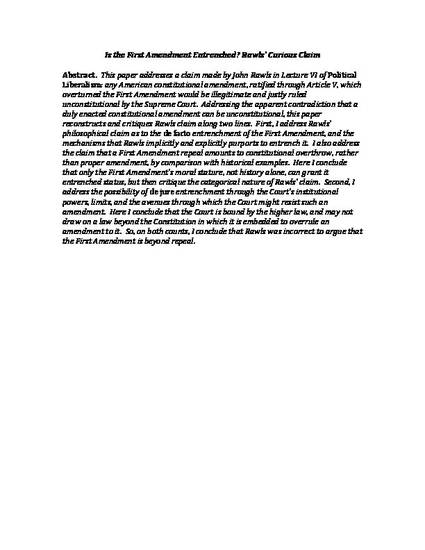 Unpublished Paper
Is the First Amendment Entrenched? Rawls' Curious Claim
ExpressO (2013)
Abstract
. This paper addresses a claim made by John Rawls in Lecture VI of Political Liberalism: any American constitutional amendment, ratified through Article V, which overturned the First Amendment would be illegitimate and justly ruled unconstitutional by the Supreme Court. Addressing the apparent contradiction that a duly enacted constitutional amendment can be unconstitutional, this paper reconstructs and critiques Rawls claim along two lines. First, I address Rawls' philosophical claim as to the de facto entrenchment of the First Amendment, and the mechanisms that Rawls implicitly and explicitly purports to entrench it. I also address the claim that a First Amendment repeal amounts to constitutional overthrow, rather than proper amendment, by comparison with historical examples. Here I conclude that only the First Amendment's moral stature, not history alone, can grant it entrenched status, but then critique the categorical nature of Rawls' claim. Second, I address the possibility of de jure entrenchment through the Court's institutional powers, limits, and the avenues through which the Court might resist such an amendment. Here I conclude that the Court is bound by the higher law, and may not draw on a law beyond the Constitution in which it is embedded to overrule an amendment to it. So, on both counts, I conclude that Rawls was incorrect to argue that the First Amendment is beyond repeal.
Keywords
Rawls,
First Amendment,
Entrenchment,
Constitution,
Political Liberalism
Publication Date
December 22, 2013
Citation Information
Gordon D Ballingrud. "Is the First Amendment Entrenched? Rawls' Curious Claim"
ExpressO
(2013)
Available at: http://works.bepress.com/gordon_ballingrud/1/