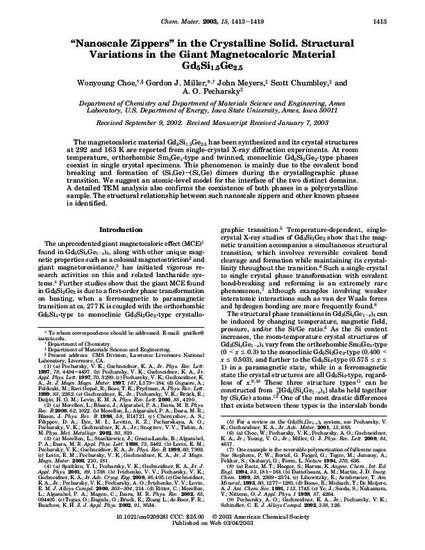 Article
"Nanoscale Zippers" in the Crystalline Solid. Structural Variations in the Giant Magnetocaloric Material Gd5Si1.5Ge2.5
Chemistry of Materials
Publication Date
3-4-2003
Abstract
Single-crystal X-ray diffraction coupled with TEM and SAD investigations demonstrate that Gd5Si1.5Ge2.5 exists as two distinct structural phases at room temperature:  the orthorhombic Sm5Ge4-type and the monoclinic Gd5Si2Ge2-type. This phenomenon occurs from the "nanoscale zippers" involving (Si, Ge) dimers that form or break bonds between the fundamental building units.
Copyright Owner
American Chemical Society
File Format
application/pdf
Citation Information
Wonyoung Choe, Gordon J. Miller, John Meyers, L. Scott Chumbley, et al.. ""Nanoscale Zippers" in the Crystalline Solid. Structural Variations in the Giant Magnetocaloric Material Gd5Si1.5Ge2.5"
Chemistry of Materials
Vol. 15 Iss. 7 (2003) p. 1413 - 1419
Available at: http://works.bepress.com/gordon-miller/50/