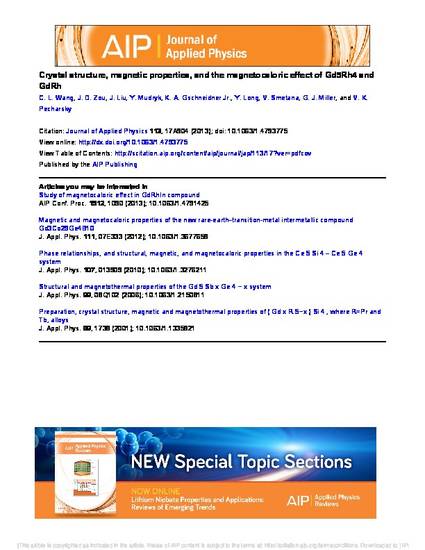 Article
Crystal structure, magnetic properties, and the magnetocaloric effect of Gd5Rh4 and GdRh
Journal of Applied Physics
Publication Version
Published Version
Publication Date
1-1-2013
Abstract
The crystal structures of Gd5Rh4 and GdRh have been studied by powder and single crystal x-ray diffraction. The results show that Gd5Rh4 is isotypic with Pu5Rh4 and the bond length of the short Rh-Rh dimer is 2.943(4) Å. According to heat capacity measurements in zero magnetic field, the magnetic ordering temperature of Gd5Rh4 is 13 K, in agreement with magnetization measurements. Both the heat capacity peak shape and the positive slope of the Arrott plots at Curie temperature (TC) indicate the second-order nature of the magnetic transition. The temperature dependence of magnetization of Gd5Rh4 measured in 1 kOe applied field indicates noncollinear magnetic ordering that may change into nearly collinear ferromagnetic ordering by increasing the magnetic field. GdRh is ferromagnetic below T C  = 22 K. Moderate magnetocaloric effects and relatively high refrigerant capacities are observed in Gd5Rh4 and GdRh.
Rights
Copyright 2013 American Institute of Physics. This article may be downloaded for personal use only. Any other use requires prior permission of the author and the American Institute of Physics.
Copyright Owner
American Institue of Physics
File Format
application/pdf
Citation Information
C.L. Wang, J.D. Zhou, Jun Li, Yaroslav Mudryk, et al.. "Crystal structure, magnetic properties, and the magnetocaloric effect of Gd5Rh4 and GdRh"
Journal of Applied Physics
Vol. 113 Iss. 17A904 (2013) p. 1 - 4
Available at: http://works.bepress.com/gordon-miller/29/