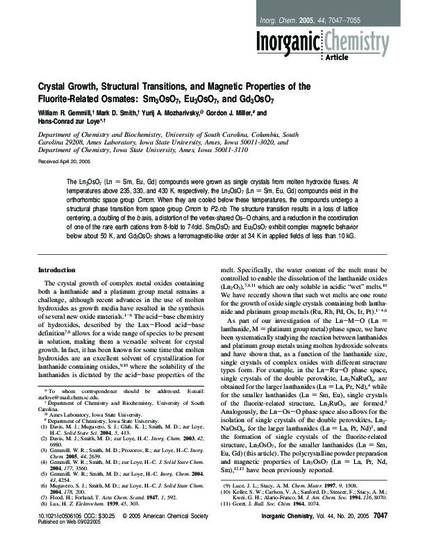 Article
Crystal Growth, Structural Transitions, and Magnetic Properties of the Fluorite-Related Osmates:  Sm3OsO7, Eu3OsO7, and Gd3OsO7
Inorganic Chemistry
Publication Version
Published Version
Publication Date
1-1-2005
Abstract
The Ln3OsO7 (Ln = Sm, Eu, Gd) compounds were grown as single crystals from molten hydroxide fluxes. At temperatures above 235, 330, and 430 K, respectively, the Ln3OsO7 (Ln = Sm, Eu, Gd) compounds exist in the orthorhombic space group Cmcm. When they are cooled below these temperatures, the compounds undergo a structural phase transition from space group Cmcm to P21nb. The structure transition results in a loss of lattice centering, a doubling of the b axis, a distortion of the vertex-shared Os−O chains, and a reduction in the coordination of one of the rare earth cations from 8-fold to 7-fold. Sm3OsO7 and Eu3OsO7 exhibit complex magnetic behavior below about 50 K, and Gd3OsO7 shows a ferromagnetic-like order at 34 K in applied fields of less than 10 kG.
Copyright Owner
American Chemical Society
File Format
application/pdf
Citation Information
William R. Gemmill, Mark D. Smith, Yurij Mozharivskyj, Gordon J. Miller, et al.. "Crystal Growth, Structural Transitions, and Magnetic Properties of the Fluorite-Related Osmates:  Sm3OsO7, Eu3OsO7, and Gd3OsO7"
Inorganic Chemistry
Vol. 44 Iss. 20 (2005) p. 7047 - 7055
Available at: http://works.bepress.com/gordon-miller/28/