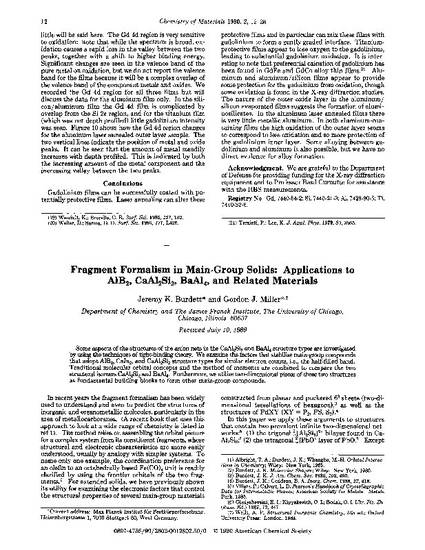 Article
Fragment formalism in main-group solids: applications to aluminum boride (AlB2), calcium aluminum silicide (CaAl2Si2), barium-aluminum (BaAl4), and related materials
Chemistry of Materials (1990)
Abstract
Some aspects of the structures of the anion nets in the CaAl2Si2 and BaAl4 structure types are investigated
by using the techniques of tight-binding theory. We examine the factors that stabilize main-group compounds
that adopt AIB2, Caln2, and CaAl2Si2 structure types for similar electron counts, i.e., the half-filled band.
Traditional molecular orbital concepts and the method of moments are combined to compare the two
structural isomers CaAl~i2 and BaA4. Furthermore, we utilize two-dimensional pieces of these two structures
as fundamental building blocks to form other main-group compounds.
Citation Information
Gordon J. Miller and Jeremy K. Burdett. "Fragment formalism in main-group solids: applications to aluminum boride (AlB2), calcium aluminum silicide (CaAl2Si2), barium-aluminum (BaAl4), and related materials"
Chemistry of Materials
Vol. 2 Iss. 1 (1990) p. 12 - 26
Available at: http://works.bepress.com/gordon-miller/15/