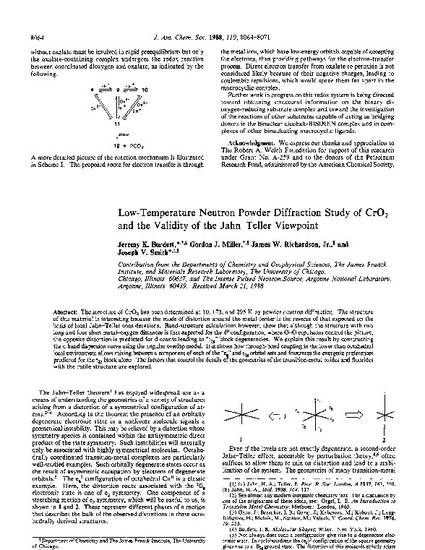 Article
Low-temperature neutron powder diffraction study of chromium dioxide and the validity of the Jahn-Teller viewpoint
Journal of the American Chemical Society (1988)
Abstract
The structure of Cr02 has been determined at 10, 173, and 295 K by powder neutron diffraction. The structure
of this material is interesting because the mode of distortion around the metal center is the reverse of that expected on the
basis of local Jahn-Teller considerations. Band-structure calculations however, show that although the structure with two
long and four short metal-oxygen distances is that expected for the d0 configuration, where o-o repulsions control the picture,
the opposite distortion is predicted for d counts leading to "t28" block degeneracies. We explain this result by constructing
the d band dispersion curve using the angular overlap model. It is shown how through-bond coupling in the lower than octahedral
local environment allows mixing between a component of each of the "e "and t28 orbital sets and frustrates the energetic preferences
predicted for the t28 block alone. The factors that control the details o1 the geometries of the transition-metal oxides and fluorides
with the rutile structure are explored.
Citation Information
Jeremy K. Burdett, Gordon J. Miller, James W. Richardson and Joseph V. Smith. "Low-temperature neutron powder diffraction study of chromium dioxide and the validity of the Jahn-Teller viewpoint"
Journal of the American Chemical Society
Vol. 110 Iss. 24 (1988) p. 8064 - 8071
Available at: http://works.bepress.com/gordon-miller/14/