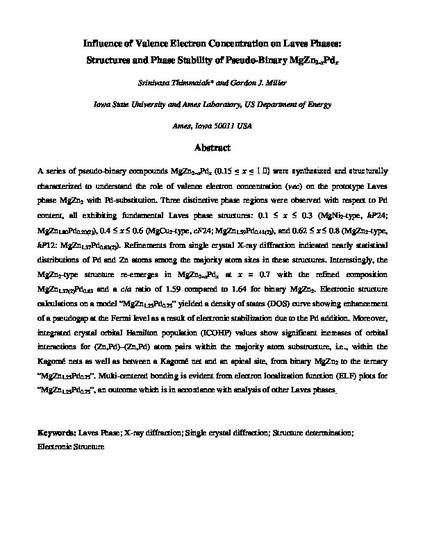 Article
Influence of Valence Electron Concentration on Laves Phases: Structures and Phase Stability of Pseudo‐Binary MgZn2–xPdx
Zeitschrift für anorganische und allgemeine Chemie
Publication Version
Accepted Manuscript
Publication Date
7-1-2015
DOI
10.1002/zaac.201500197
Abstract
A series of pseudo‐binary compounds MgZn2–xPdx (0.15 ≤ x ≤ 1.0) were synthesized and structurally characterized to understand the role of valence electron concentration (vec) on the prototype Laves phase MgZn2 with Pd‐substitution. Three distinctive phase regions were observed with respect to Pd content, all exhibiting fundamental Laves phase structures: 0.1 ≤ x ≤ 0.3 (MgNi2‐type, hP24; MgZn1.80Pd0.20(2)), 0.4 ≤ x ≤ 0.6 (MgCu2‐type, cF24; MgZn1.59Pd0.41(2)), and 0.62 ≤ x ≤ 0.8 (MgZn2‐type, hP12: MgZn1.37Pd0.63(2)). Refinements from single‐crystal X‐ray diffraction indicated nearly statistical distributions of Pd and Zn atoms among the majority atom sites in these structures. Interestingly, the MgZn2‐type structure re‐emerges in MgZn2–xPdx at x ≈ 0.7 with the refined composition MgZn1.37(2)Pd0.63 and a c/a ratio of 1.59 compared to 1.64 for binary MgZn2. Electronic structure calculations on a model "MgZn1.25Pd0.75" yielded a density of states (DOS) curve showing enhancement of a pseudogap at the Fermi level as a result of electronic stabilization due to the Pd addition. Moreover, integrated crystal orbital Hamilton population (ICOHP) values show significant increases of orbital interactions for (Zn,Pd)–(Zn,Pd) atom pairs within the majority atom substructure, i.e., within the Kagomé nets as well as between a Kagomé net and an apical site, from binary MgZn2 to the ternary "MgZn1.25Pd0.75". Multi‐centered bonding is evident from electron localization function (ELF) plots for "MgZn1.25Pd0.75", an outcome which is in accordance with analysis of other Laves phases.
Copyright Owner
WILEY-VCH Verlag GmbH & Co. KGaA, Weinheim
File Format
application/pdf
Citation Information
Srinivasa Thimmaiah and Gordon J. Miller. "Influence of Valence Electron Concentration on Laves Phases: Structures and Phase Stability of Pseudo‐Binary MgZn2–xPdx"
Zeitschrift für anorganische und allgemeine Chemie
Vol. 641 Iss. 8-9 (2015) p. 1486 - 1494
Available at: http://works.bepress.com/gordon-miller/131/