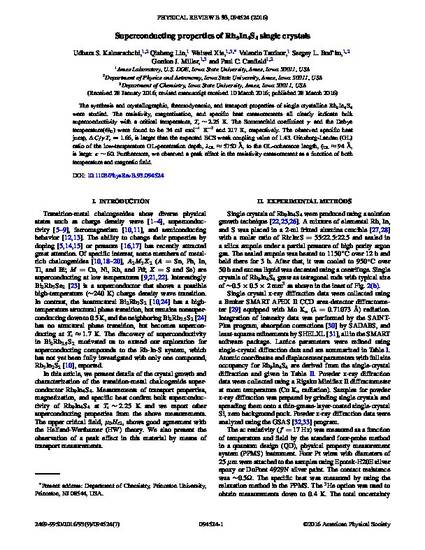 Article
Superconducting Properties of Rh 9 In 4 S 4 Single Crystals
Physical Review B
Publication Version
Published Version
Publication Date
1-1-2016
DOI
10.1103/PhysRevB.93.094524
Abstract
The synthesis and crystallographic, thermodynamic, and transport properties of single crystalline Rh9In4S4 were studied. The resistivity, magnetization, and specific heat measurements all clearly indicate bulk superconductivity with a critical temperature, Tc∼2.25 K. The Sommerfeld coefficient γ and the Debye temperature (ΘD) were found to be 34 mJ mol−1 K−2 and 217 K, respectively. The observed specific heat jump, ΔC/γTc=1.66, is larger than the expected BCS weak coupling value of 1.43. Ginzburg-Landau (GL) ratio of the low-temperature GL-penetration depth, λGL≈5750 Å, to the GL-coherence length, ξGL≈94 Å, is large: κ ∼60. Furthermore, we observed a peak effect in the resistivity measurement as a function of both temperature and magnetic field.
Copyright Owner
American Physical Society
File Format
application/pdf
Citation Information
Udhara S. Kaluarachchi, Qisheng Lin, Weiwei Xie, Valentin Taufour, et al.. "Superconducting Properties of Rh 9 In 4 S 4 Single Crystals"
Physical Review B
Vol. 93 Iss. 9 (2016) p. 094524-1 - 094524-7
Available at: http://works.bepress.com/gordon-miller/123/