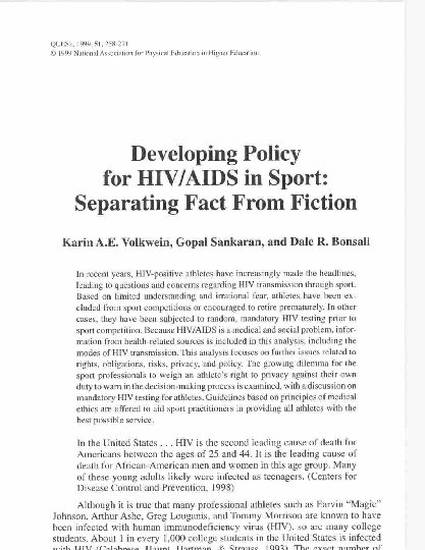 Article
Developing Policy For HIV/AIDS in Sport: Separating Fact From Fiction
Quest
Publication Date
8-1-1999
Abstract
In recent years, HIV-positive athletes have increasingly made the headlines, leading to questions and concerns regarding HIV transmission through sport. Based on limited understanding and irrational fear, athletes have been excluded from sport competitions or encouraged to retire prematurely. In other cases, they have been subjected to random, mandatory HIV testing prior to sport competition. Because HIV/AIDS is a medical and social problem, information from health-related sources is included in this analysis, including the modes of HIV transmission. This analysis focuses on further issues related to rights, obligations, risks, privacy, and policy. The growing dilemma for the sport professionals to weigh an athlete's right to privacy against their own duty to warn in the decision-making process is examined, with a discussion on mandatory HIV testing for athletes. Guidelines based on principles of medical ethics are offered to aid sport practitioners in providing all athletes with the best possible service.
Publisher
Human Kinetics Publishing Inc
Citation Information
Karin A. E. Volkwein, Gopal Sankaran and Dale R. Bonsall. "Developing Policy For HIV/AIDS in Sport: Separating Fact From Fiction"
Quest
Vol. 51 Iss. 3 (1999) p. 258 - 271 ISSN: 0033-6297
Available at: http://works.bepress.com/gopal_sankaran/1/