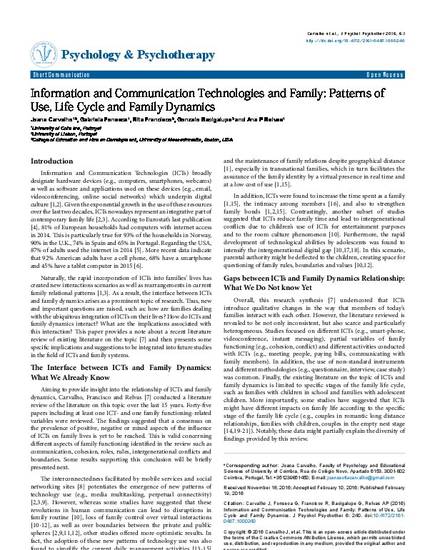 Article
Information and Communication Technologies and Family: Patterns of Use, Life Cycle and Family Dynamics
Journal of Psychology and Psychotherapy 6: 240 (2016)
Abstract
Introduction Information and Communication Technologies (ICTs) broadly designate hardware devices (e.g., computers, smartphones, webcams) as well as software and applications used on these devices (e.g., email, videoconferencing, online social networks) which underpin digital culture [1,2]. Given the exponential growth in the use of these resources over the last two decades, ICTs nowadays represent an integrative part of contemporary family life [2,3]. According to Eurostat's last publication [4], 81% of European households had computers with internet access in 2014. This is particularly true for 93% of the households in Norway, 90% in the U.K., 74% in Spain and 65% in Portugal. Regarding the USA, 87% of adults used the internet in 2014 [5]. More recent data indicate that 92% American adults have a cell phone, 68% have a smartphone and 45% have a tablet computer in 2015 [6]. 
Keywords
information communication technologies,
family,
couple
Publication Date
Winter February 19, 2016
DOI
10.4172/2161-0487.1000240
Citation Information
Carvalho J, Fonseca G, Francisco R, Bacigalupe G, Relvas AP (2016) Information and Communication Technologies and Family: Patterns of Use, Life Cycle and Family Dynamics. Journal of Psychology and Psychotherapy 6: 240. doi:10.4172/2161-0487.1000240
Creative Commons license
This work is licensed under a Creative Commons CC_BY International License.