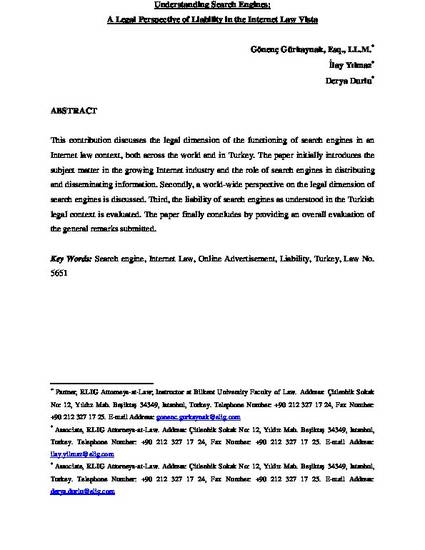 Unpublished Paper
Understanding Search Engines: A Legal Perspective of Liability in the Internet Law Vista
ExpressO (2012)
Abstract
This contribution discusses the legal dimension of the functioning of search engines in an Internet law context, both across the world and in Turkey. The paper initially introduces the subject matter in the growing Internet industry and the role of search engines in distributing and disseminating information. Secondly, a world-wide perspective on the legal dimension of search engines is discussed. Third, the liability of search engines as understood in the Turkish legal context is evaluated. The paper finally concludes by providing an overall evaluation of the general remarks submitted.
Keywords
Search engine,
internet law,
online advertisement,
liability,
Turkey,
Law No. 5651
Publication Date
June 12, 2012
Citation Information
Gönenç Gürkaynak, İlay Yılmaz and Derya Durlu. "Understanding Search Engines: A Legal Perspective of Liability in the Internet Law Vista"
ExpressO
(2012)
Available at: http://works.bepress.com/gonenc_gurkaynak/1/