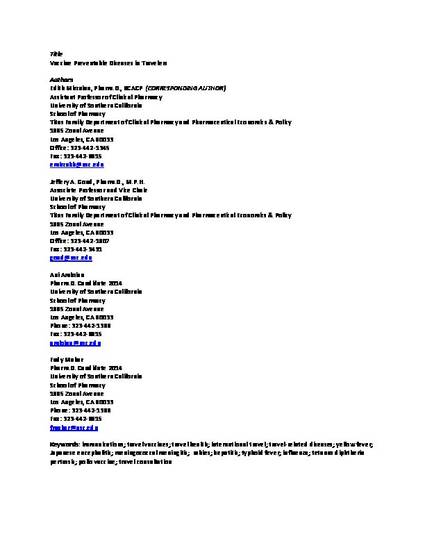 Article
Vaccine-Preventable Diseases in Travelers
Pharmacy Faculty Articles and Research
Publication Date
2-1-2014
Abstract
Travel to the developing world is increasing among those from developed countries, placing them at risk for vaccine preventable and non-vaccine preventable diseases. From 2007-2011, the GeoSentinel Network reported 737 returned travelers with a vaccine preventable disease. While it is essential that clinicians use vaccines when available for a disease of risk, they should also be aware that the vast majority of diseases acquired by travelers are non-vaccine preventable. The vaccine preventable diseases can be divided into routine travel vaccines, special travel vaccines and routine vaccines used for travel. The routine travel vaccines include Hepatitis A and B, typhoid; special travel vaccine include yellow fever, meningococcal disease, rabies, polio and Japanese encephalitis; and route vaccines include influenza and tetanus- diphtheria-pertussis. Travel medicine providers should take a patient and itinerary specific approach to recommending vaccines for travel.
Citation Information
Mirzaian E, Amloian A, Makar F, Goad J. Vaccine-Preventable Diseases in Travelers.
Curr Treat Options Infect Dis.
2014 (Feb):1-16. Published online. doi: 10.1007/s40506-014-0011-7