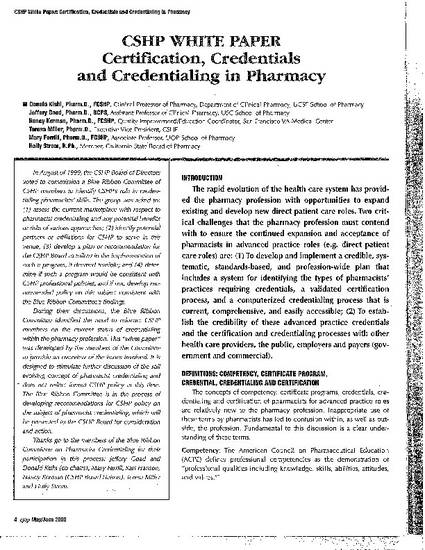 Article
White Paper: Certification, Credentials, and Credentialing in Pharmacy
Pharmacy Faculty Articles and Research
Publication Date
1-1-2000
Abstract
The rapid evolution of the health care system has provided the pharmacy profession with opportunities to expand existing and develop new direct patient care roles. Two critical challenges that the pharmacy profession must contend with to ensure the continued expansion and acceptance of pharmacists in advanced practice roles (e.g. direct patient care roles) are: (1) To develop and implement a credible, systematic, standards-based, and profession-wide plan that includes a system for identifying the types of pharmacists' practices requiring credentials, a validated certification process, and a computerized credentialing process that is current, comprehensive, and easily accessible; (2) To establish the credibility of these advanced practice credentials and the certification and credentialing processes with other health care providers, the public, employers and payers (government and commercial).
Copyright
California Society of Health-System Pharmacists
Citation Information
Kishi D, Goad JA, Korman N, Miller T, Ferrill M, Strom H. White Paper: Certification, Credentials, and Credentialing in Pharmacy.
California Journal of Health-System Pharmacists
2000;12(3):4-10