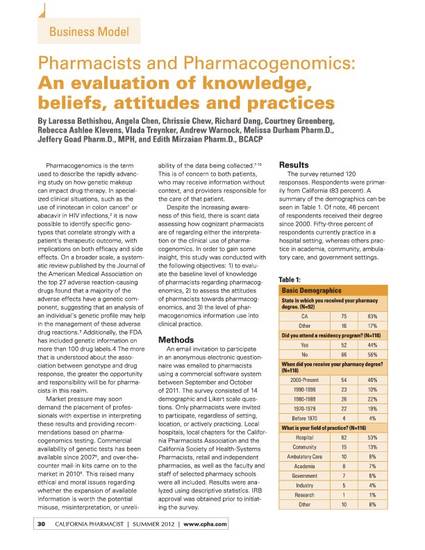 Article
Pharmacists and Pharmacogenomics: An Evaluation of Knowledge, Beliefs, Attitudes and Practices
Pharmacy Faculty Articles and Research
Publication Date
4-1-2012
Abstract
"Pharmacogenomics is the term used to describe the rapidly advancing study on how genetic makeup can impact drug therapy. In specialized clinical situations, such as the use of irinotecan in colon cancer or abacavir in HIV infections, it is now possible to identify specific genotypes that correlate strongly with a patient's therapeutic outcome, with implications on both efficacy and side effects. On a broader scale, a systematic review published by the Journal of the American Medical Association on the top 27 adverse reaction-causing drugs found that a majority of the adverse effects have a genetic component, suggesting that an analysis of an individual's genetic profile may help in the management of these adverse drug reactions. Additionally, the FDA has included genetic information on more than 100 drug labels. The more that is understood about the association between genotype and drug response, the greater the opportunity and responsibility will be for pharmacists in this realm."
Copyright
California Pharmacists Association
Citation Information
Laressa Bethishou, Angela Chen, Chrissie Chew, Richard Dang, Courtney Greenber, Rebecca Ashlee Klevens, Vlada Treynker, Andrew Warnock, Melissa Durham, Jeffery Goad and Edith Mirzaian. Pharmacists and Pharmacogenomics: An Evaluation of Knowledge, Beliefs, Attitudes and Practices.
California Pharmacist.
Vol LIX (3): 30-31. Spring 2012