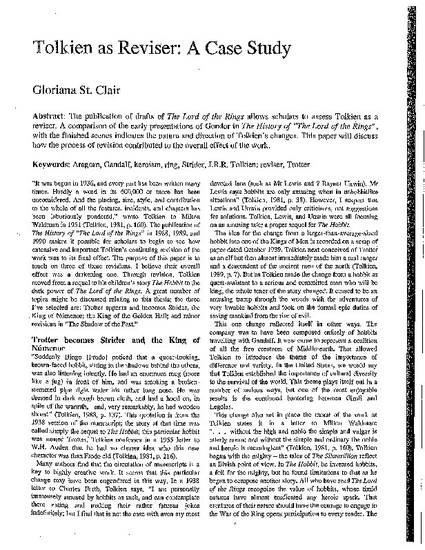 Article
Tolkien as Reviser: A Case Study
Proceedings of the J.R.R. Tolkien Centenary Conference edited by Patricia Reynolds and Glen H. Goodknight (Keble College, Oxford, 1992). Mythlore 80, Mallorn 30 (Milton Keynes, England and Altadena, California: The Tolkien Society and the Mythopoeic Press, 1995)
Date of Original Version
1-1-1995
Rights Management
All Rights Reserved
Abstract or Table of Contents
The publication of drafts of The Lord of the Rings allows scholars to assess Tolkien as a reviser. A comparison of the early presentations of Gondor in The History of "The Lord of the Rings" , with the finished scenes indicates the nature and direction of Tolkien's changes. This paper will discuss how the process of revision contributed to the overall effect of the work.
Citation Information
Gloriana St. Clair. "Tolkien as Reviser: A Case Study"
Proceedings of the J.R.R. Tolkien Centenary Conference edited by Patricia Reynolds and Glen H. Goodknight (Keble College, Oxford, 1992). Mythlore 80, Mallorn 30 (Milton Keynes, England and Altadena, California: The Tolkien Society and the Mythopoeic Press, 1995)
(1995) p. 145 - 150
Available at: http://works.bepress.com/gloriana_stclair/30/