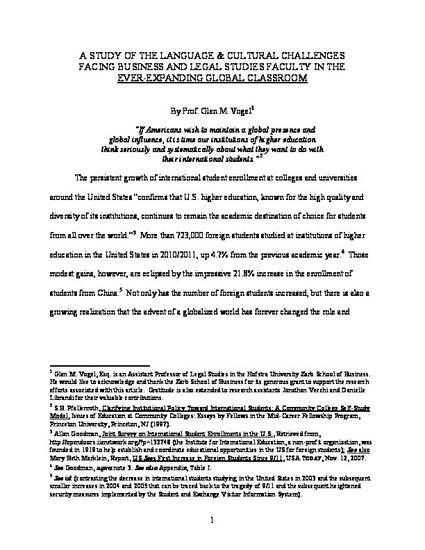 Article
A STUDY OF THE LANGUAGE & CULTURAL CHALLENGES FACING BUSINESS AND LEGAL STUDIES FACULTY IN THE EVER-EXPANDING GLOBAL CLASSROOM
Journal of Instructional Pedagogies (2013)
Abstract
More than 690,000 foreign students studied in the United States during the 2009-10 academic year – a 17% increase in just two years. As these non-native English-speaking students continue to pour into our nation's educational institutions, one question many educators have is: are these international students adequately prepared for the language and cultural demands they will face when they are competing in the classroom and in the job market with their U.S. born counterparts? While it is a common belief that foreign students arrive with strong academic credentials, this does not reflect their grasp of the English language or their ability to adjust to significant cultural differences. Moreover, while some international students feel uncomfortable participating in the classroom as a result of cultural mores, most express trouble with business and legal vocabulary, reading case law, identifying basic legal or ethical issues and legal principles, and they are often frustrated by the time required to read the assigned materials. When the above are married with the fact that the majority of faculty are not prepared to recognize or address the unique problems experienced by international students, the end result is that professors get frustrated by what they believe to be underprepared or disinterested students and the international students do not make the conceptual connections and acquire the elementary foundation needed to progress through the more advanced aspects of the curriculum. This article will look at some of the cultural and language barriers that act as impediments to an international student's ability to succeed in the legal studies and business classrooms and it offers some solutions to enable faculty to be part of the pathway to success for the international students in their courses.
Keywords
International Students,
Chinese Students,
Teaching,
ELL,
ESL,
Global Classroom,
Foreign Students
Publication Date
Summer 2013
Citation Information
Glen M Vogel. "A STUDY OF THE LANGUAGE & CULTURAL CHALLENGES FACING BUSINESS AND LEGAL STUDIES FACULTY IN THE EVER-EXPANDING GLOBAL CLASSROOM"
Journal of Instructional Pedagogies
Vol. 11 (2013)
Available at: http://works.bepress.com/glen_vogel1/5/