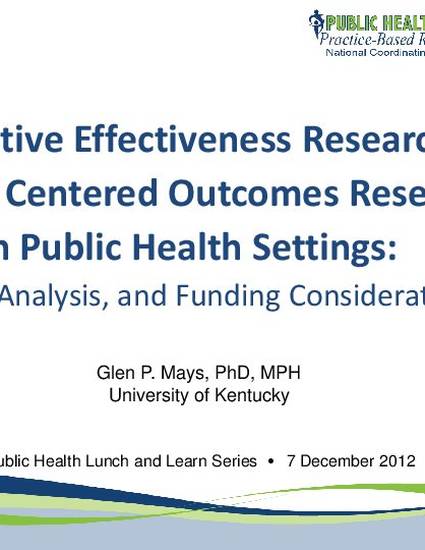 Presentation
Comparative Effectiveness Research and Patient-Centered Outcomes Research in Public Health Settings: Design, Analysis and Funding Considerations
University of Kentucky Public Health Lunch-and-Learn Series (2012)
Abstract
The principles and methods of CER and PCOR have developed primarily with therapeutics in mind, but they must also be applied to the study of public health programs, policies, and delivery systems. This session surveys the emerging field, and provides examples of CER/PCOR methods applied in public health settings using practice-based research networks (PBRNs).
Publication Date
December 7, 2012
Citation Information
Glen Mays. "Comparative Effectiveness Research and Patient-Centered Outcomes Research in Public Health Settings: Design, Analysis and Funding Considerations"
University of Kentucky Public Health Lunch-and-Learn Series
(2012)
Available at: http://works.bepress.com/glen_mays/58/