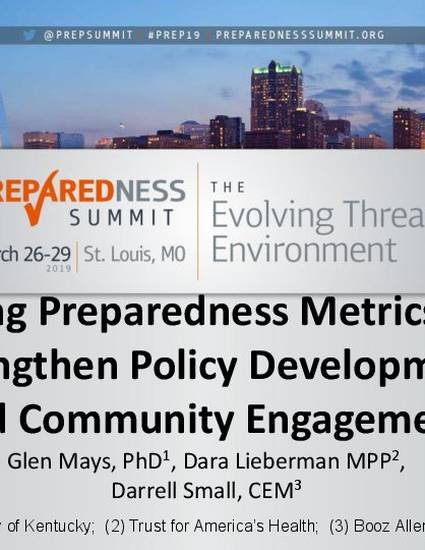 Presentation
Using Preparedness Metrics to Strengthen Policy Development and Community Engagement
National Preparedness Summit, sponsored by the National Association of County and City Health Officials and U.S. Centers for Disease Control and Prevention (2019)
Abstract
Creating prepared and resilient health systems and communities requires cooperation across many organizations and sectors.  Health care providers, public health agencies, emergency management officials, and community-based organizations each play central roles in health security, but individually they operate with constrained financial resources and limited visibility and influence within their communities.  Evidence from behavioral economics reveals that the strategic use of comparative information can motivate individuals and organizations to pursue cooperative actions, including the development of policies that support health security and community resiliency.  The National Health Security Preparedness Index integrates longitudinal data from more than 60 sources to offer a broad, multi-sector view of activities and organizations contributing to preparedness.  Similarly, the Ready or Not report uses selected measures of preparedness, together with reviews of the scientific evidence, to support evidence-based recommendations for improving health security. Together, these tools that coalitions can use to "nudge" diverse organizations toward greater cooperative behavior that strengthens health security.  At the same time, these tools can be used to assess potential policy solutions to health security problems, and educate and inform policy officials about these solutions.   
In this session we begin by examining six years of results from the Index to profile geographic variation and longitudinal change in health security across the U.S.  We illustrate how the rich set of metrics included in the Index can be used to identify strengths and vulnerabilities for states, regions and the U.S. overall.  Next, we profile how the Ready or Not report can be used to connect preparedness metrics and trends to specific, evidence-based policy solutions.  We provide examples of how the report can be used to educate and inform policymakers at federal, state, and local levels regarding potential policy solutions.  Finally and most importantly, we profile examples of how preparedness metrics can be used to strengthen public-private partnerships and community networks that promote community resilience, drawing on lessons from the Integrated Emergency Services Support Network (IESSN) dedicated to providing emergency services to at-risk populations.  We demonstrate how coalitions and networks can use preparedness metrics identify complementarities and synergies among the preparedness activities contributed by different community stakeholders, thereby motivating and reinforcing cooperative behavior.
Publication Date
Spring March 28, 2019
Citation Information
Glen P. Mays, Dara Lieberman and Darrell Small. "Using Preparedness Metrics to Strengthen Policy Development and Community Engagement"
National Preparedness Summit, sponsored by the National Association of County and City Health Officials and U.S. Centers for Disease Control and Prevention
(2019)
Available at: http://works.bepress.com/glen_mays/342/