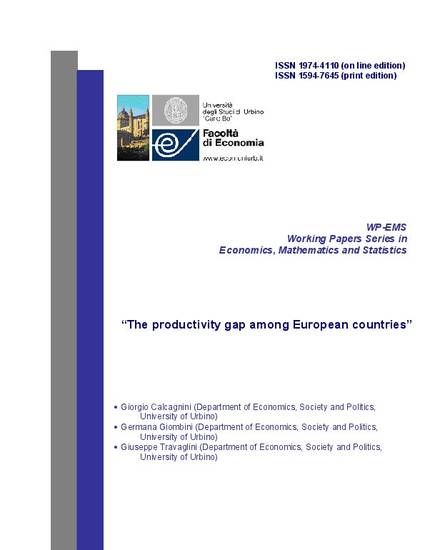 Article
The productivity gap among European countries
Working Papers Series in Economics, Mathematics and Statistics Urbino University (IT) (2015)
Abstract
This paper aims at analyzing Total Factor Productivity (TFP)
in four European countries (France, Germany, Italy and the Nether-
lands) between 1950 and 2011. It uses the common trend - common
cycle approach to decompose series in trends and cycles. We nd that
the four economies share three common trends and a common cycle.
Further, we show that in the case of Italy and the Netherlands trend
and cycle innovations have a negative relationship that supports the
`opportunity cost' approach to productivity growth, and that trend
innovations are generally larger than cycle innovations. Finally, while
we do not explore what drives the three common trends, we show
that countries' dierences in TFP performance in recent years may be
due to the so-called \deep"determinants in growth literature such as
the presence of ecient mechanisms of creation and transmission of
knowledge, international integration, and ecient markets and insti-
tutions.
Keywords
Total factor productivity; Cointegration analysis; Mar- ket imperfections.
Citation Information
Giuseppe Travaglini. "The productivity gap among European countries"
Working Papers Series in Economics, Mathematics and Statistics Urbino University (IT)
Vol. 2015/10 (2015) ISSN: 1974-4110
Available at: http://works.bepress.com/giuseppe_travaglini/39/