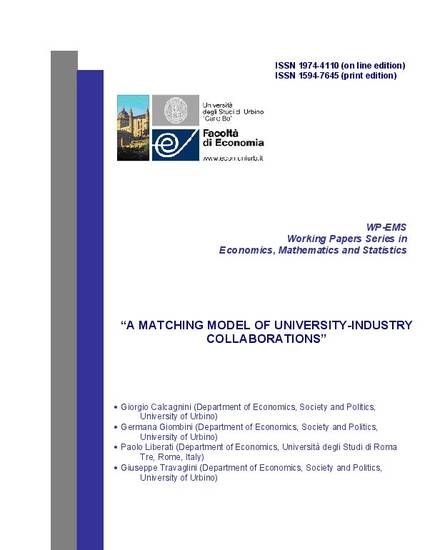 Article
A matching model of university–industry collaborations
Small Business Economics (2015)
Abstract
In this paper, we present a model of university–industry collaborations with heterogeneous agents. It develops one of the original intuitions by Leyden and Link (Small Bus Econ 41:797–817. doi:
10.​1007/​s11187-013-9507-7
,
2013b
) about the mechanisms by which innovative firms search for collaborative research partners. We study the characteristics of the matching process between universities and innovative firms that makes this exchange in technology transfer (TT) either efficient or unfeasible. We show that the functioning of the TT market implies dual-trading externalities. These arise because there is a high probability that a firm searching for a university collaboration will not meet a suitable researcher, and another positive probability that an unemployed researcher will not find a suitable innovative firm, whatever the market prices and the costs are. According to the matching model literature, we refer to these externalities as congestion.
Keywords
Technology transfer – University–industry collaboration – Matching models
Publication Date
Summer August, 2015
DOI
10.1007/s11187-015-9672-y
Citation Information
Giuseppe Travaglini. "A matching model of university–industry collaborations"
Small Business Economics
(2015) ISSN: 1573-0913
Available at: http://works.bepress.com/giuseppe_travaglini/38/