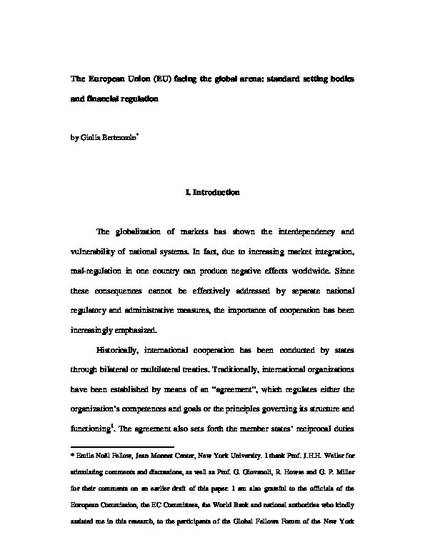 Unpublished Paper
THE EUROPEAN UNION (EU) FACING THE GLOBAL ARENA: STANDARD SETTING BODIES AND FINANCIAL REGULATION
ExpressO (2008)
Abstract
The article considers how the European Community deals with global standard setters operating within the financial sector. The starting point is the consideration of the growing importance of those bodies and their transformed role. Previously places devoted to the exchange of ideas, they have evolved into transnational regulatory bodies. These organizations issue their own standards, which officially have no binding force. Nevertheless, global "rules" spread out both quickly internationally. As shown by some recent EC directives, despite the European Community's weak representation within the standard setters, EC law seems to be strongly influenced by global standards. In order to understand through which process global standards get into the EC system and with what effects, the article highlights the relationships existing between the EC and the global regulatory systems. In particular, the research considers the participation of EU institutions in the decision-making process of global bodies, as well as the formal and informal links established by EC and global actors dealing with financial regulation. The essay concludes that by setting up a system similar to the global one, the European Union has provided the conditions for EC interests to be asserted at global level. This goal is mainly reached through the creation of permanent bodies made up of Member states' national authorities.
Keywords
SUMMARY: 1. Introduction. – 2. Global standard setting bodies and the financial sector: linking up a fragmented regulatory survey. – 3. Characteristics of the global bodies considered: the BCBS,
the IOSCO and the IAIS. – 4. Where,
why and how are global standards implemented? – 5. The European Union financial architecture. – 6. The functioning of the Lamfalussy regulatory system. – 7. Interaction between the EC and the global systems: the preferential way for global standards to become EC law. – 8. Asserting EU's interests at global level: old problems and new tools. – 9. Global standards setters' accountability. – 10. Recollecting ideas.
Publication Date
September 2, 2008
Citation Information
Giulia Bertezzolo. "THE EUROPEAN UNION (EU) FACING THE GLOBAL ARENA: STANDARD SETTING BODIES AND FINANCIAL REGULATION"
ExpressO
(2008)
Available at: http://works.bepress.com/giulia_bertezzolo/1/