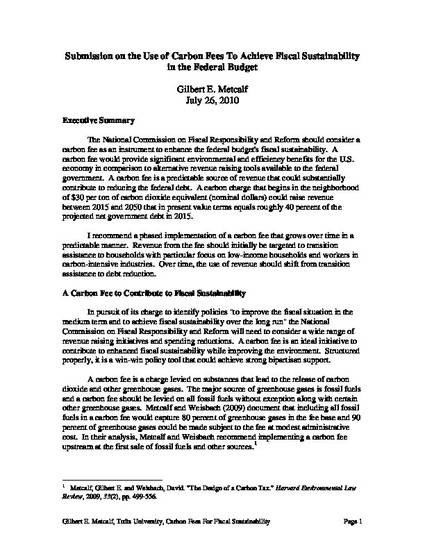 Popular Press
Submission on the Use of Carbon Fees To Achieve Fiscal Sustainability in the Federal Budget
Submission to Commission (2010)
Abstract
The National Commission on Fiscal Responsibility and Reform should consider a carbon fee as an instrument to enhance the federal budget's fiscal sustainability. A carbon fee would provide significant environmental and efficiency benefits for the U.S. economy in comparison to alternative revenue raising tools available to the federal government. A carbon fee is a predictable source of revenue that could substantially contribute to reducing the federal debt. A carbon charge that begins in the neighborhood of $30 per ton of carbon dioxide equivalent (nominal dollars) could raise revenue between 2015 and 2050 that in present value terms equals roughly 40 percent of the projected net government debt in 2015.
I recommend a phased implementation of a carbon fee that grows over time in a predictable manner. Revenue from the fee should initially be targeted to transition assistance to households with particular focus on low-income households and workers in carbon-intensive industries. Over time, the use of revenue should shift from transition assistance to debt reduction.
Publication Date
July, 2010
Citation Information
Gilbert E. Metcalf. "Submission on the Use of Carbon Fees To Achieve Fiscal Sustainability in the Federal Budget"
Submission to Commission
(2010)
Available at: http://works.bepress.com/gilbert_metcalf/86/