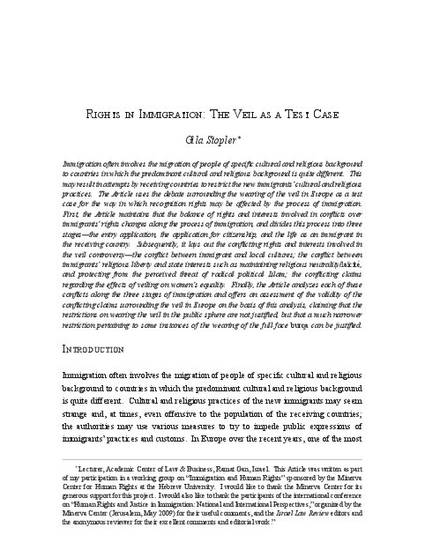 Article
Rights in Immigration: The Veil as a Test Case
Israel Law Review (2010)
Abstract
Immigration often involves the migration of people of specific cultural and religious background to countries in which the predominant cultural and religious background is quite different. This may result in attempts by receiving countries to restrict the new immigrants' cultural and religious practices. The paper uses the debate surrounding the wearing of the veil in Europe as a test case for the way in which recognition rights may be affected by the process of immigration. First, the paper maintains that the balance of rights and interests involved in conflicts over immigrants' rights changes along the process of immigration, and divides this process into three stages - the entry application, the application for citizenship, and the life as an immigrant in the receiving country. Subsequently, the paper lays out the conflicting rights and interests involved in the veil controversy – the conflict between immigrant and local cultures; the conflict between immigrants' religious liberty and state interests such as maintaining religious neutrality/laïcité, and protecting from the perceived threat of radical political Islam; the conflicting claims regarding the effects of veiling on women's equality. Finally, the paper analyzes each of these conflicts along the three stages of immigration and offers an assessment of the validity of the conflicting claims surrounding the veil in Europe on the basis of this analysis, claiming that the restrictions on wearing the veil in the public sphere are not justified, but that a much narrower restriction pertaining to some instances of the wearing of the full face burqa can be justified.
Citation Information
Gila Stopler. "Rights in Immigration: The Veil as a Test Case"
Israel Law Review
Vol. 43 (2010)
Available at: http://works.bepress.com/gila_stopler/7/