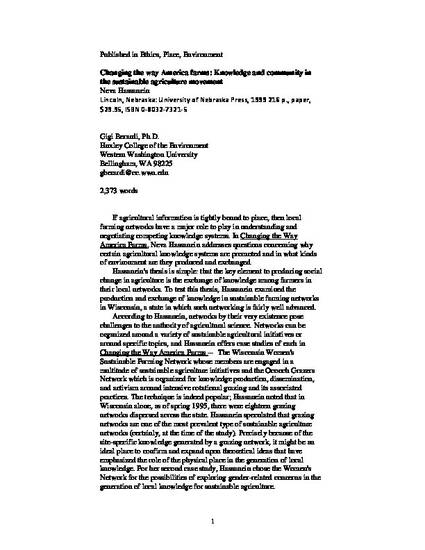 Article
Changing the Way America Farms: Knowledge and Community in the Sustainable Agriculture Movement
Ethics, Place, and Environment
Document Type
Book Review
Publication Date
1-1-2002
Keywords
Agricultural information,
Agricultural knowledge systems
Abstract
If agricultural information is tightly bound to place, then local farming networks have a major role to play in understanding and negotiating competing knowledge systems. In Changing the Way America Farms, Neva Hassanein addresses questions concerning why certain agricultural knowledge systems are promoted and in what kinds of environment are they produced and exchanged.
Subjects - Names (LCNAF)
Hassanein, Neva, 1963- Changing the way America farms
Genre/Form
reviews (documents)
Citation Information
"Changing the way America farms: Knowledge and community in the sustainable agriculture movement." Ethics, Place, and Environment 5(1): 73-77. (Review Essay).