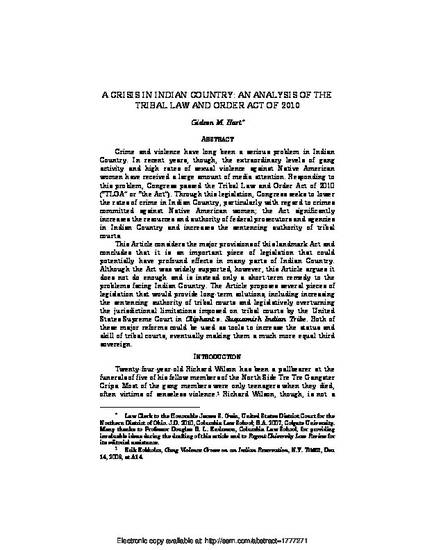 Article
A Crisis in Indian Country: An Analysis of the Tribal Law and Order Act of 2010
Regent University Law Review (2010)
Abstract
Crime and violence have long been a serious problem in Indian Country. In recent years, though, the extraordinary levels of gang activity and high rates of sexual violence against Native American women have received a large amount of media attention. Responding to this problem, Congress passed the Tribal Law and Order Act of 2010. Through this legislation, Congress seeks to lower the rates of crime in Indian Country, particularly with regard to crimes committed against Native American women; the Act significantly increases the resources and authority of federal prosecutors and agencies in Indian Country and increases the sentencing authority of tribal courts. This Article considers the major provisions of this landmark Act and concludes that it is an important piece of legislation that could potentially have profound effects in many parts of Indian Country. Although the Act was widely supported, however, this Article argues it does not do enough and is instead only a short-term remedy to the problems facing Indian Country. The Article proposes several pieces of legislation that would provide long-term solutions, including increasing the sentencing authority of tribal courts and legislatively overturning the jurisdictional limitations imposed on tribal courts by the United States Supreme Court in Oliphant v. Suquamish Indian Tribe. Both of these major reforms could be used as tools to increase the status and skill of tribal courts, eventually making them a much more equal third sovereign.
Publication Date
Fall 2010
Citation Information
Gideon M Hart. "A Crisis in Indian Country: An Analysis of the Tribal Law and Order Act of 2010"
Regent University Law Review
Vol. 23 (2010)
Available at: http://works.bepress.com/gideon_hart/3/