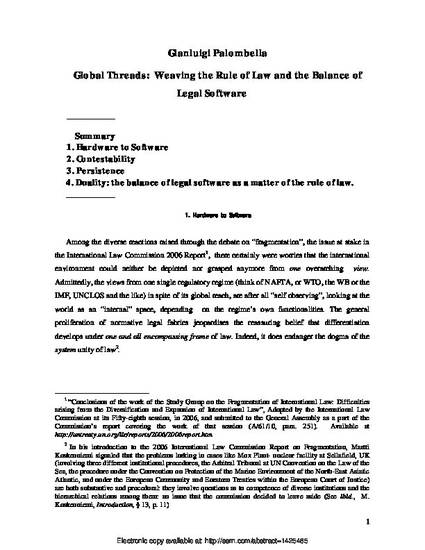 Contribution to Book
Global Threads: Weaving the Rule of Law and the Balance of Legal Software
SHAPING RULE OF LAW THROUGH DIALOGUE: INTERNATIONAL AND SUPRANATIONAL EXPERIENCES (2009)
Abstract
The article shows how the global legal sphere attempts to compensate the lack of a system (hardware) and faces the proliferation of legal normativities (software). The author elaborates on the role of the rule of law: after stressing the ambiguities and the contestability of its current uses in the confrontations between legal orders and regulatory regimes, it is explained that the persistence and promise of the rule of law in the global setting depend on the weaving of a set of meta-rules (a special kind of software) developed through various areas and sources of legalities in the international environment. Eventually, building on the author's previous articles on the rule of law ideal beyond the state borders, the paper focuses on the import of the rule of law as one related with granting non instrumentality of law. The feasibility of this objective in the global governance is conceived of as depending on the actual or prospective existence of what is termed the "duality" of law, and balance between different sides of positive law as aimed at legal arrangements countervailing the institutionalisation of dominating and unrivalled legal sources. Summary: (1) Hardware to Software, (2) Contestability, (3) Persistence, and (4) Duality: the balance of legal software as a matter of the rule of law.
Keywords
global governance,
legal orders,
regulatory regimes,
the rule of law,
international law,
legal theory,
EU law
Editor
Fontanelli, Martinico, Carrozza
Publisher
EUROPA LAW PUBLISHING
Citation Information
Gianluigi Palombella. "Global Threads: Weaving the Rule of Law and the Balance of Legal Software"
SHAPING RULE OF LAW THROUGH DIALOGUE: INTERNATIONAL AND SUPRANATIONAL EXPERIENCES
(2009)
Available at: http://works.bepress.com/gianluigi_palombella/3/