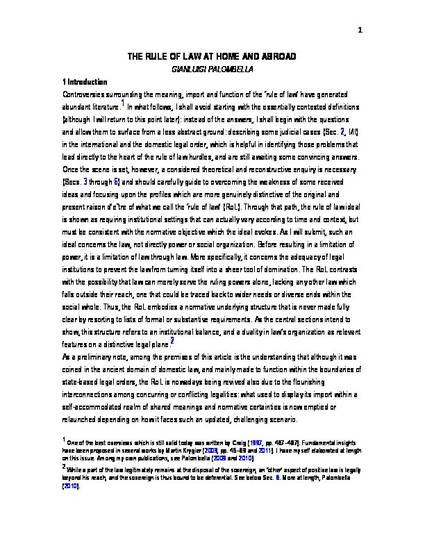 Article
THE RULE OF LAW AT HOME AND ABROAD
the hague journal on the rule of law ( forthcoming) (2016)
Abstract
The article starts from cases raising questions as to the import of the Rule of law in domestic and supra-State legalities. Beyond the insufficiency of some received ideas or more common notions- from those requisites-based to formal, material, or procedural ones-, it restates the theory of the rule of law elsewhere proposed by the author, focussing upon a ''dual'' structure of legality as an institutional condition for the Rule of Law to pursue its normative ideal. The notion is carefully distinguished from rule compliance, procedural fairness, substantive justice, the principle of legality, and other different achievements of the present legal civilization. It appears to be conducive to the appraisal of several problems related to the Rule of law oversight in diverse current circumstances.
Keywords
international and domestic justice,
the rule of law,
procedure and legality
Citation Information
Gianluigi Palombella. "THE RULE OF LAW AT HOME AND ABROAD"
the hague journal on the rule of law ( forthcoming)
(2016)
Available at: http://works.bepress.com/gianluigi_palombella/19/