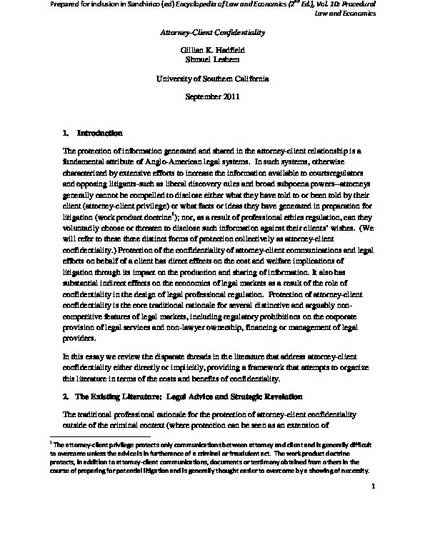 Contribution to Book
Attorney-Client Confidentiality
Encyclopedia of Law and Economics (2nd ed.), Vol 10: Procedural Law and Economics (C. Sanchirico, ed.) (2012)
Abstract
The protection of information generated and shared in attorney-client relationships is a fundamental attribute of Anglo-American legal systems. Protection of attorney-client confidentiality is the core traditional rationale for several distinctive and arguably non-competitive features of legal markets (Hadfield 2008). This chapter reviews the literature relevant to economic analysis of attorney-client confidentiality, a topic that has not come garnered sustained attention from law and economics scholars. We review the literature on legal advice and strategic revelation and then consider how the disparate threads in the literature might be connected and what unanswered questions remain if we are to reach a better understanding of the welfare implications of attorney-client confidentiality.
Citation Information
Gillian K Hadfield and Shmuel Leshem. "Attorney-Client Confidentiality"
Encyclopedia of Law and Economics (2nd ed.), Vol 10: Procedural Law and Economics (C. Sanchirico, ed.)
(2012)
Available at: http://works.bepress.com/ghadfield/47/