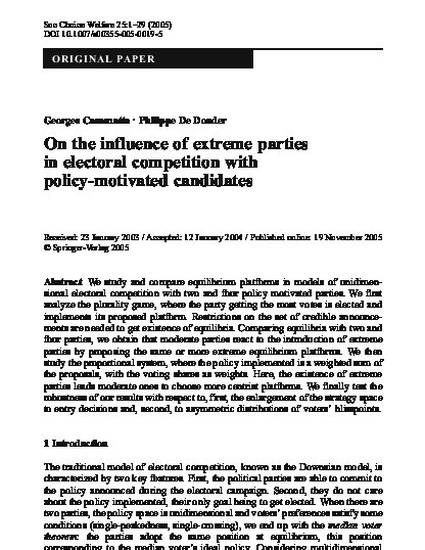 Article
On the influence of extreme parties in electoral competition with policy-motivated candidates
Social Choice and Welfare (2005)
Abstract
We study and compare equilibrium platforms in models of unidimensional electoral competition with two and four policy motivated parties. We first analyze the plurality game, where the party getting the most votes is elected and implements its proposed platform. Restrictions on the set of credible announcements are needed to get existence of equilibria. Comparing equilibria with two and four parties, we obtain that moderate parties react to the introduction of extreme parties by proposing the same or more extreme equilibrium platforms. We then study the proportional system, where the policy implemented is a weighted sum of the proposals, with the voting shares as weights. Here, the existence of extreme parties leads moderate ones to choose more centrist platforms. We finally test the robustness of our results with respect to, first, the enlargement of the strategy space to entry decisions and, second, to asymmetric distributions of voters' blisspoints.
Publication Date
October, 2005
Citation Information
Georges Casamatta and Philippe De Donder. "On the influence of extreme parties in electoral competition with policy-motivated candidates"
Social Choice and Welfare
Vol. 25 Iss. 1 (2005)
Available at: http://works.bepress.com/georges_casamatta/5/