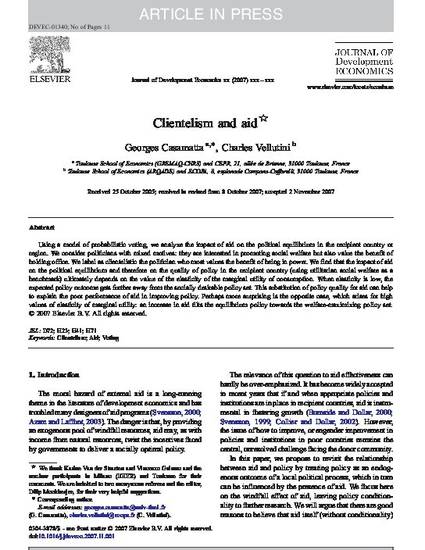 Article
Clientelism and aid
Journal of Development Economics (2008)
Abstract
Using a model of probabilistic voting, we analyze the impact of aid on the political equilibrium in the recipient country or region. We consider politicians with mixed motives: they are interested in promoting social welfare but also value the benefit of holding office. We label as clientelistic the politician who most values the benefit of being in power. We find that the impact of aid on the political equilibrium and therefore on the quality of policy in the recipient country (using utilitarian social welfare as a benchmark) ultimately depends on the value of the elasticity of marginal consumption. When elasticity is low, the expected policy outcome gets further away from the socially desirable policy set. This substitution of policy quality for aid can help to explain the poor performance of conditionality in improving policy. Perhaps more surprising is the opposite case, which arises for high values of elasticity of marginal utility: an increase in aid tilts the equilibrium policy towards the welfare-maximizing policy set.
Citation Information
Georges Casamatta and Charles Vellutini. "Clientelism and aid"
Journal of Development Economics
(2008)
Available at: http://works.bepress.com/georges_casamatta/11/