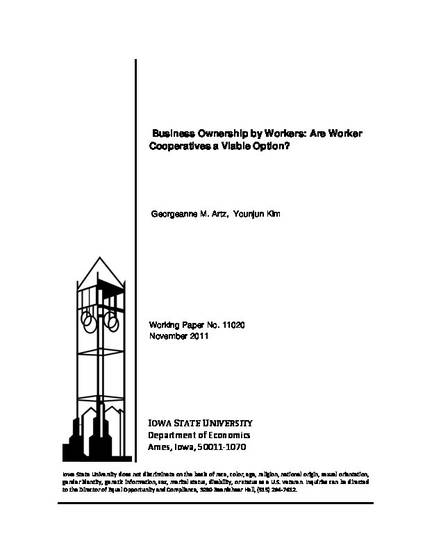 Article
Business ownership by workers: are worker cooperatives a viable option?
Economics Working Papers (2002–2016)
Document Type
Working Paper
Publication Date
11-9-2011
Working Paper Number
WP #11020, November 2011
Abstract
One possible strategy for both succession and new business development is employee ownership. New business formation as an employee-owned firm or cooperative may have some advantages over formation as a sole proprietorship or partnership: pooling financial resources, spreading risk and combining the various knowledge and skills of the members involved. In the case of business succession, selling to employees provides a tax benefit to the owners and increases the probability that the business will continue to exist in its current location, benefitting both the employees themselves and the local community. While worker cooperatives (or employee-owned cooperatives) are currently rare in the United States, successful examples exist, suggesting potential for future development of this type of organization. This paper reviews the literature on worker cooperatives and presents data on the extent and nature of worker cooperatives in the United States. It concludes with a discussion of the implications for employee-owned cooperative development in Iowa and provides suggestions for future research and outreach programming on this topic.
File Format
application/pdf
File Function
Title page date: April 2011
Citation Information
Georgeanne M. Artz and Younjun Kim. "Business ownership by workers: are worker cooperatives a viable option?" (2011)
Available at: http://works.bepress.com/georgeanne-artz/21/