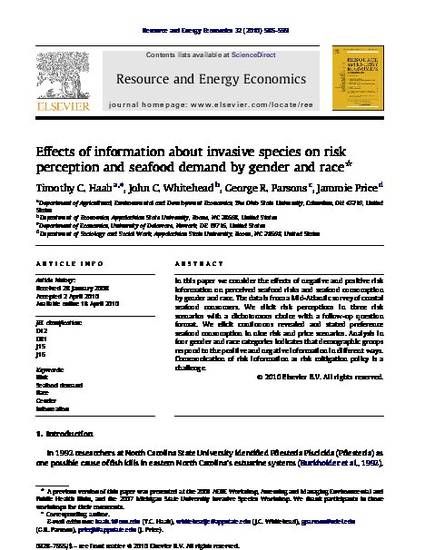 Article
Effects of Information About Invasive Species on Risk Perception and Seafood Demand by Gender and Race
Resource and Energy Economics (2010)
Abstract
In this paper we consider the effects of negative and positive risk information on perceived seafood risks and seafood consumption by gender and race. The data is from a Mid-Atlantic survey of coastal seafood consumers. We elicit risk perceptions in three risk scenarios with a dichotomous choice with a follow-up question format. We elicit continuous revealed and stated preference seafood consumption in nine risk and price scenarios. Analysis in four gender and race categories indicates that demographic groups respond to the positive and negative information in different ways. Communication of risk information as risk mitigation policy is a challenge.
Citation Information
Timothy C Haab, John C Whitehead, George R Parsons and Jamie Price. "Effects of Information About Invasive Species on Risk Perception and Seafood Demand by Gender and Race"
Resource and Energy Economics
Vol. 32 (2010)
Available at: http://works.bepress.com/george_parsons/30/