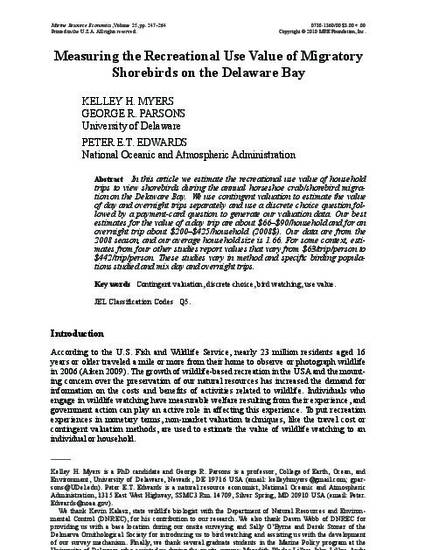 Article
Measuring the Recreational Use Value of Migratory Shorebirds: A Stated Preference Study of Birdwatching on the Delaware Bay
Marine Resource Economics (2010)
Abstract
In this article we estimate the recreational use value of household trips to view shorebirds during the annual horseshoe crab/shorebird migration on the Delaware Bay. We use contingent valuation to estimate the value of day and overnight trips separately and use a discrete choice question followed by a payment-card question to generate our valuation data. Our best estimates for the value of a day trip is about $66 - $90/household and for an overnight trip is about $200 - $425/household (2008$). Our data are from the 2008 season, and our average household size is 1.66. For some context, estimates from four other studies report values that vary from $63/trip/person to $442/trip/person. These studies vary in method and specific birding populations studied and mix day and overnight trips.
Citation Information
Kelley H Myers, George R Parsons and Peter E T Edwards. "Measuring the Recreational Use Value of Migratory Shorebirds: A Stated Preference Study of Birdwatching on the Delaware Bay"
Marine Resource Economics
Vol. 25 (2010)
Available at: http://works.bepress.com/george_parsons/13/