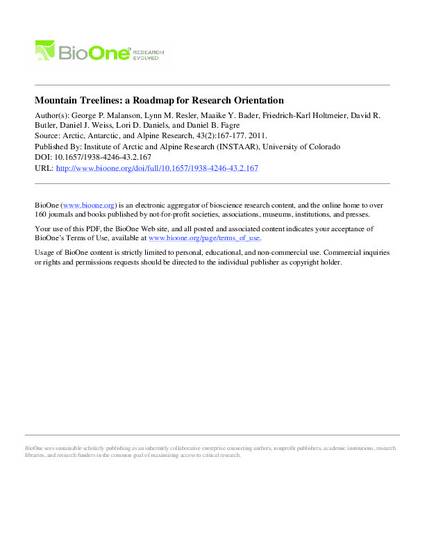 Article
Mountain Treelines: a Roadmap for Research Orientation
Arctic, Antarctic, and Alpine Research (2011)
Abstract
For over 100 years, mountain treelines have been the subject of varied research endeavors and remain a strong area of investigation. The purpose of this paper is to examine aspects of the epistemology of mountain treeline research—that is, to investigate how knowledge on treelines has been acquired and the changes in knowledge acquisition over time, through a review of fundamental questions and approaches. The questions treeline researchers have raised and continue to raise have undoubtedly directed the current state of knowledge. A continuing, fundamental emphasis has centered on seeking the general cause of mountain treelines, thus seeking an answer to the question, ''What causes treeline?'' with a primary emphasis on searching for ecophysiological mechanisms of low-temperature limitation for tree growth and regeneration. However, treeline research today also includes a rich literature that seeks local, landscape-scale causes of treelines and reasons why treelines vary so widely in three-dimensional patterns from one location to the next, and this approach and some of its consequences are elaborated here. In recent years, both lines of research have been motivated greatly by global climate change. Given the current state of knowledge, we propose that future research directions focused on a spatial approach should specifically address cross-scale hypotheses using statistics and simulations designed for nested hierarchies; these analyses will benefit from geographic extension of treeline research.
Citation Information
George P Malanson. "Mountain Treelines: a Roadmap for Research Orientation"
Arctic, Antarctic, and Alpine Research
Vol. 43 Iss. 2 (2011)
Available at: http://works.bepress.com/george_malanson/90/