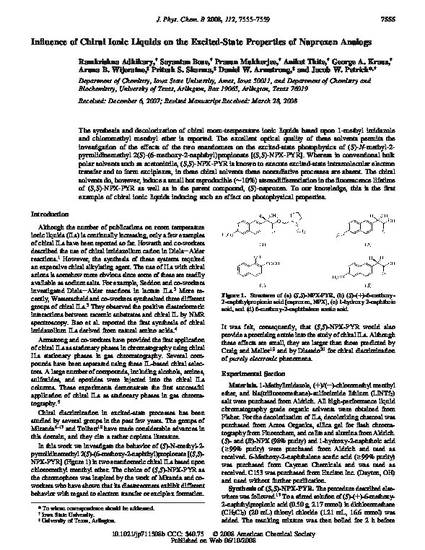 Article
Influence of Chiral Ionic Liquids on the Excited-State Properties of Naproxen Analogs
The Journal of Physical Chemistry B
Publication Version
Published Version
Publication Date
6-10-2008
Abstract
The synthesis and decolorization of chiral room-temperature ionic liquids based upon 1-methyl imidazole and chloromethyl menthyl ether is reported. The excellent optical quality of these solvents permits the investigation of the effects of the two enantiomers on the excited-state photophysics of (S)-N-methyl-2-pyrrolidinemethyl 2(S)-(6-methoxy-2-naphthyl)propionate [(S,S)-NPX-PYR]. Whereas in conventional bulk polar solvents such as acetonitrile, (S,S)-NPX-PYR is known to execute excited-state intramolecular electron transfer and to form exciplexes, in these chiral solvents these nonradiative processes are absent. The chiral solvents do, however, induce a small but reproducible (∼10%) stereodifferentiation in the fluorescence lifetime of (S,S)-NPX-PYR as well as in the parent compound, (S)-naproxen. To our knowledge, this is the first example of chiral ionic liquids inducing such an effect on photophysical properties.
Copyright Owner
American Chemical Society
File Format
application/pdf
Citation Information
Ramkrishna Adhikary, Sayantan Bose, Prasun Mukherjee, Aniket Thite, et al.. "Influence of Chiral Ionic Liquids on the Excited-State Properties of Naproxen Analogs"
The Journal of Physical Chemistry B
Vol. 112 Iss. 25 (2008) p. 7555 - 7559
Available at: http://works.bepress.com/george_kraus/70/