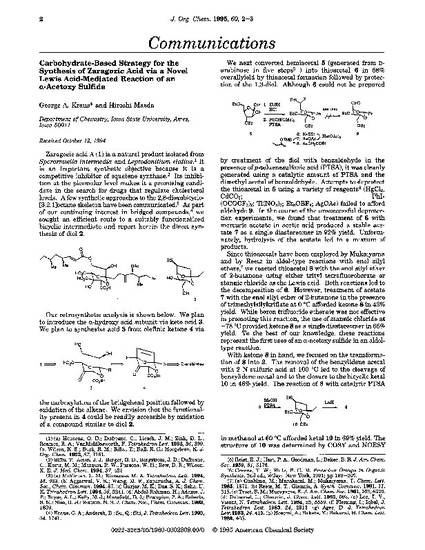 Article
Carbohydrate-Based Strategy for the Synthesis of Zaragozic Acid via a Novel Lewis Acid-Mediated Reaction of an .alpha.-Acetoxy Sulfide
The Journal of Organic Chemistry
Publication Version
Published Version
Publication Date
1-1-1995
Abstract
Zaragozic acid A (1) is a natural product isolated from Sporormiella intermedia and Leptodonitium elatius.' It is an important synthetic objective because it is a competitive inhibitor of squalene synthasea2 Its inhibition at the picomolar level makes it a promising candidate in the search for drugs that regulate cholesterol levels. A few synthetic approaches to the 2,8-dioxabicyclo- [3.2.lloctane skeleton have been ~ommunicated.~ As part of our continuing interest in bridged compounds,4 we sought an efficient route to a suitably functionalized bicyclic intermediate and report herein the direct synthesis of diol 2.
Copyright Owner
American Chemical Society
File Format
application/pdf
Citation Information
George A. Kraus and Hiroshi Maeda. "Carbohydrate-Based Strategy for the Synthesis of Zaragozic Acid via a Novel Lewis Acid-Mediated Reaction of an .alpha.-Acetoxy Sulfide"
The Journal of Organic Chemistry
Vol. 60 Iss. 1 (1995) p. 2 - 3
Available at: http://works.bepress.com/george_kraus/39/