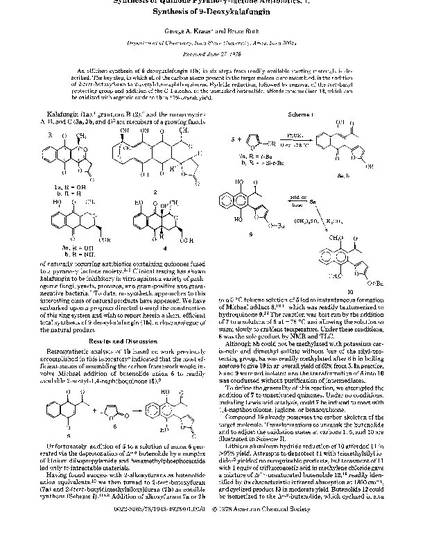 Article
Synthesis of quinone pyrano-.gamma.-lactone antibiotics. 1. Synthesis of 9-deoxykalafungin
The Journal of Organic Chemistry
Publication Version
Published Version
Publication Date
12-1-1978
Abstract
An efficient synthesis of 9-deoxykalafungin (lb) in six steps from readily available starting materials is described. The key step, in which all of the carbon atoms present in the target molecule are assembled, is the addition of 2-tert-butoxyfuran to 2-acetyl-l,4-naphthoquinone. Hydride reduction, followed by removal of the tert-butyl protecting group and addition of the C-1 alcohol to the unmasked hutenolide, affords intermediate 13, which can be oxidized with argentic oxide to lb in 17% overall yield.
Copyright Owner
American Chemical Society
File Format
application/pdf
Citation Information
George A. Kraus and Bruce Roth. "Synthesis of quinone pyrano-.gamma.-lactone antibiotics. 1. Synthesis of 9-deoxykalafungin"
The Journal of Organic Chemistry
Vol. 43 Iss. 26 (1978) p. 4923 - 4924
Available at: http://works.bepress.com/george_kraus/116/