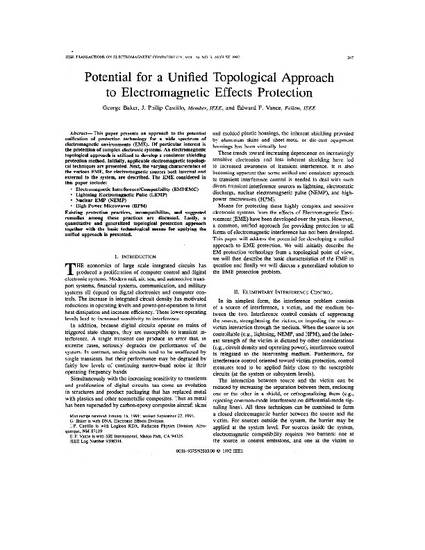 Presentation
Potential for a Unified Topological Protection Approach to Electromagnetic Environments
North American Radio Science Meeting and International IEEE/APS Symposium (1991)
Abstract
Military and critical infrastructure electronic equipment may be exposed accidently or maliciously to harsh electromagnetic environments which include effects from background electromagnetic sources (lightning and broadband electromagnetic waves from radio, TV, microwave signals) and high amplitude intentional sources (RF weapons and nuclear EMP). An integrated approach is needed to effectively and affordably protect critical electronics from this wide range of environments.
This paper presents an approach to the potential unification of protection technology for a wide spectrum of electromagnetic environments. An electromagnetic topological approach is used to develop a consistent shielding protection methodology. We address a suite of electromagnetic effects including electromagnetic interference/compatibility, lightning, nuclear EMP, high power microwaves, and ultra-wideband signals.
Existing protection practices are discussed. Incompatibilities are presented with suggested solutions. Finally, a generalized topological approach and associated technical application requirements are presented.
Keywords
Electromagnetic Interference,
High Power Microwave Effects,
Electronics Vulnerability
Publication Date
June, 1991
Citation Information
George H Baker, J Philip Castillo and Edward F Vance. "Potential for a Unified Topological Protection Approach to Electromagnetic Environments"
North American Radio Science Meeting and International IEEE/APS Symposium
(1991)
Available at: http://works.bepress.com/george_h_baker/9/