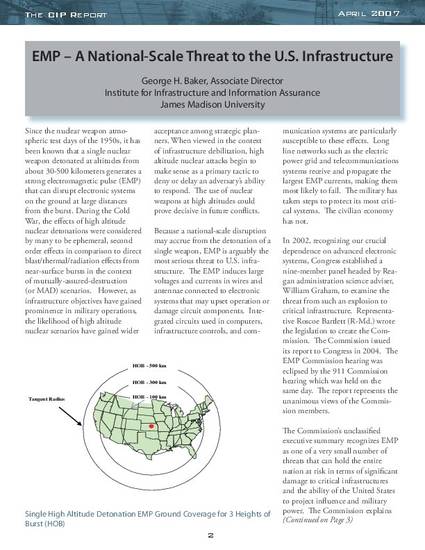 Article
EMP: A National-Scale Threat to the U.S. Infrastructure
The Critical Infrastructure Protection Report (2007)
Abstract
Since the nuclear weapon atmospheric test days of the 1950s, it has been known that a single nuclear weapon detonated at altitudes from about 30-500 kilometers generates a strong electromagnetic pulse (EMP) that can disrupt electronic systems on the ground at large distances. During the Cold War, the effects of high altitude nuclear detonations were considered by many to be ephemeral, second order effects in comparison to direct blast/thermal/radiation effects from near-surface bursts in the context of mutually-assured-destruction (or MAD) scenarios. However, as infrastructure objectives have gained prominence in military operations, the likelihood of high altitude nuclear scenarios have gained wider acceptance among strategic planners. In 2002, recognizing our crucial dependence on advanced electronic systems, Congress established a nine-member Commission to examine the threat from such an explosion to critical infrastructure. The initial recommendations of this Commission are summarized.
Keywords
Nuclear EMP,
Infrastructure Assurance,
Disaster Preparedness
Publication Date
April, 2007
Citation Information
George H Baker. "EMP: A National-Scale Threat to the U.S. Infrastructure"
The Critical Infrastructure Protection Report
Vol. 5 Iss. 10 (2007)
Available at: http://works.bepress.com/george_h_baker/6/