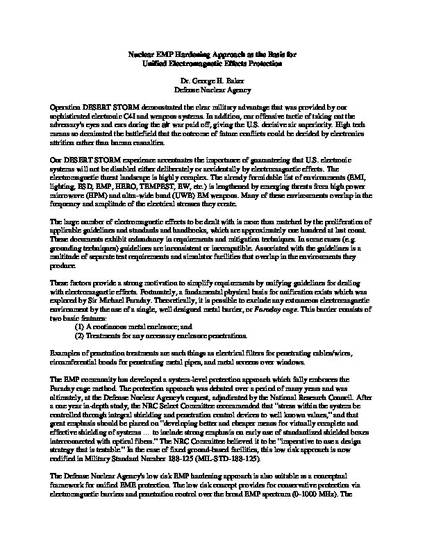 Article
Nuclear EMP Hardening Approach as the Basis for Unified Electromagnetic Environmental Effects Protection
Defense Nuclear Agency Technical Bulletin (1992)
Abstract
Operation DESERT STORM demonstrated the clear military advantage that was provided by our sophisticated electronic C4I and weapons systems. High tech means so dominate the battlefield that the outcome of future conflicts could be decided by electronics attrition rather than human casualties. However, the electromagnetic threat landscape is highly complex. The already formidable list of environments (EMI, lighting, ESD, EMP, HERO, TEMPEST, EW, etc.) is lengthened by emerging threats from high power microwave (HPM) and ultra-wide band (UWB) electromagnetic weapons. Many of these environments overlap in the frequency and amplitude of the electrical stresses they create.
The large number of electromagnetic effects to be dealt with is more than matched by the proliferation of applicable guidelines and standards and handbooks, which are approximately one hundred at last count. These factors provide a strong motivation to simplify requirements by unifying guidelines for dealing with electromagnetic effects. Fortunately, a fundamental physical basis for unification exists which was explored by Sir Michael Faraday. Theoretically, it is possible to exclude any extraneous electromagnetic environment by the use of a single, well designed metal barrier, or Faraday cage. This barrier consists of two basic features:
(1) A continuous metal enclosure; and (2) Treatments for any necessary enclosure penetrations.
The EMP community has developed a system-level protection approach which fully embraces the Faraday cage. The protection approach was debated over a period of many years and was ultimately, at the Defense Nuclear Agency's request, adjudicated by the National Academies of Science. After an in-depth study, a National Research Council Select Committee recommended that the electromagnetic "stress within the system be controlled through integral shielding and penetration control devices to well known values." This paper provides a rationale for using the Defense Nuclear Agency's low risk EMP hardening approach as a conceptual framework for unifying electromagnetic effects protection requirements.
Keywords
MIL-STD-188-125,
EMP Protection,
HEMP Protection,
RF Weapon Protection,
EMC,
EMI,
High Power Electromagnetic Effects Protection
Citation Information
George H Baker. "Nuclear EMP Hardening Approach as the Basis for Unified Electromagnetic Environmental Effects Protection"
Defense Nuclear Agency Technical Bulletin
(1992)
Available at: http://works.bepress.com/george_h_baker/43/