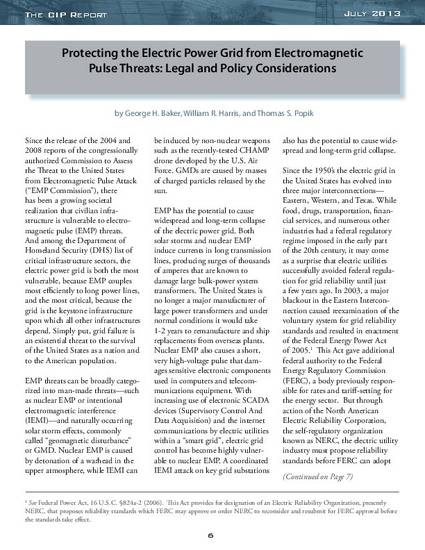 Article
Protecting the Electric Power Grid from Electromagnetic Pulse: Legal and Policy Aspects
George Mason University Law School CIP Review (2013)
Abstract
Since the release of the 2004 and 2008 reports of the congressionally-authorized Commission to Assess the Threat to the United States from Electromagnetic Pulse Attack ("EMP Commission"), there has been a growing societal realization that civilian infrastructure is vulnerable to electromagnetic pulse (EMP) threats. And among the DHS list of critical infrastructure sectors, the electric power grid is both the most vulnerable, because EMP couples most efficiently to long power lines, and the most critical, because the grid is the keystone infrastructure upon which all other infrastructures depend. Simply put, grid failure is an existential threat to national governance and to the survival of the American population. Unfortunately, lawmakers have been slow to comprehend the severity of EMP effects on the grid. In this article we briefly examine legal and policy options to protect the grid, initiatives taken by both governmental entities and private groups, and major resistance to grid protection from the electric power industry.
Keywords
EMP Protection,
Solar Storm GMD Protection,
EMP Legislation,
EMP Insurance Risks
Publication Date
July, 2013
Citation Information
George H Baker, William R Harris and Thomas S Popik. "Protecting the Electric Power Grid from Electromagnetic Pulse: Legal and Policy Aspects"
George Mason University Law School CIP Review
Iss. Legal Insights (2013)
Available at: http://works.bepress.com/george_h_baker/38/