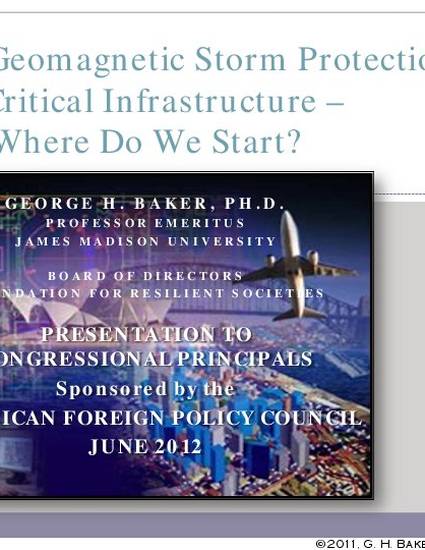 Presentation
EMP and Geomagnetic Storm Protection of Critical Infrastructure
American Foreign Policy Council (2012)
Abstract
EMP and solar storm wide geographic coverage and ubiquitous system effects beg the question of "Where to begin?" with protection efforts. Thus, in addressing these "wide area electromagnetic (EM) effects," we must be clever in deciding where to invest limited resources. Based on simple risk analysis, the electric power and communication infrastructures emerge as the highest priority for EM protection. Programs focused on these highest risk infrastructures will go a long way in lessoning societal impact. Given the national scope of the effects, such programs must be coordinated at the national level but implemented at local level. Because wide-area EM effects are difficult to model, major benefits accrue from incorporating their consequences into tabletop and field exercises. Programs should begin with pilot projects to demonstrate feasibility and cost benefits of wide-area EM protection engineering for selected highest risk infrastructure facilities. These projects will serve to pave the way for protection of critical infrastructure systems in general. Congressional (e.g. Shield Act) and FERC initiatives are essential.
Keywords
Nuclear EMP,
Solar Storm Geomagnetic Disturbance (GMD),
Critical Infrastructure Assurance,
Electromagnetic Interference,
Long-Term Outage,
Electric Power Grid Protection,
Communication Network Protection,
Risk Analysis
Publication Date
June, 2012
Citation Information
George H Baker. "EMP and Geomagnetic Storm Protection of Critical Infrastructure"
American Foreign Policy Council
(2012)
Available at: http://works.bepress.com/george_h_baker/37/