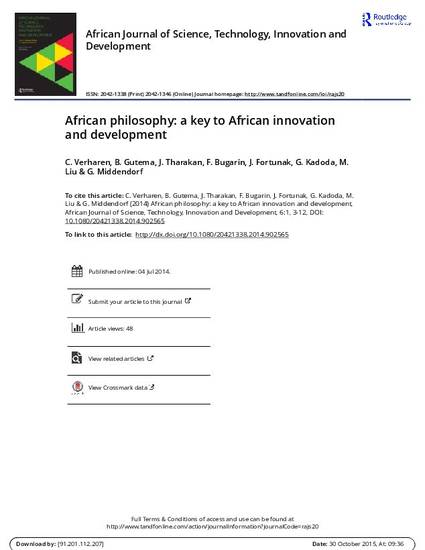 Article
African philosophy: a key to African innovation and development
African Journal of Science, Technology, Innovation and Development (2014)
Abstract
This essay demonstrates how African philosophy can be a key to African innovation and development. Its first section illustrates how philosophy as a discipline drives innovation in science and technology. The second part proposes a new discipline linking science, engineering and technology to sustainable, ethical development. The third section proposes an ethics core derived from ancient Egyptian and Ethiopian thought. It addresses the fact that non-African principles and personnel have in some measure directed African development, resulting in unsustainable and sometimes destructive outcomes. The conclusion argues that the primary instrument for African development must be a Pan-African curriculum developed through research funded by the African Union. The curriculum's dissemination will depend on widespread broadband internet access throughout Africa. The essay's method is philosophical, deploying conceptual analysis of key terms as well as generalized descriptions of the intersections of science, technology, innovation and development. The essay proposes prescriptions for developing relations among these fields for the theory and policy of African development. This study is empirical in the sense that philosophy offers broad generalizations about experience. However, it does not examine data-sets characteristic of more specifically targeted scientific descriptions.
Publication Date
October, 2014
DOI
10.1080/20421338.2014.902565
Citation Information
George Middendorf. "African philosophy: a key to African innovation and development"
African Journal of Science, Technology, Innovation and Development
Vol. 6 Iss. 1 (2014) p. 3 - 12
Available at: http://works.bepress.com/george-middendorf/2/